Paro conducts earthquake simulation drill
Sangay Chezom, Paro

Jun 14, 2018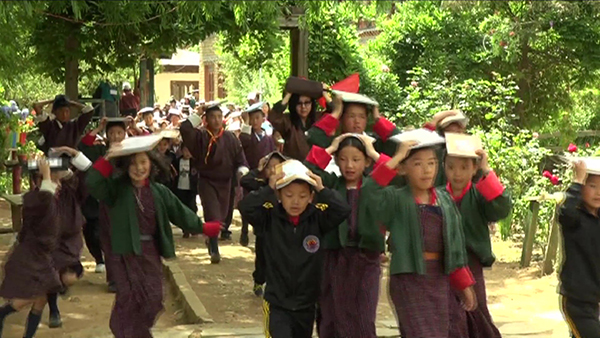 An earthquake simulation drill was conducted in Paro to refine and test the Gewog and Dzongkhag's disaster management plan and contingency procedures yesterday.
The first siren was played at 9:30am and  Woochu Lower Secondary School simulated a response to a 6.7 magnitude earthquake.
Teachers and students, after evacuating to a safe site, counted the heads and then searched and rescued the missing ones.
Similarly, the people of Wangchang Gewog responded to the simulation.
The full scale field drill involved police, fire services and emergency health responses to test and improve the response, communication and coordination mechanism as per the Incident Command System.
During the Hazard Vulnerability Capacity Assessment, Paro Dzongkhag was found prone to earthquake more than any other disasters.
"It is important for us to conduct the simulation drill as it prepares us for earthquake that could strike in the future," Kinley Gyeltshen, Paro Dzongrab said.
Following the simulation drill, the Dzongkhag and Gewog incident management team held discussions on the need for more firefighters, medical response team and improving communication.
"We also learned that there is a need to keep mobile emergency medical response team to provide medical services," Kinley Gyeltshen said.
The Paro Dzongkhag Disaster Management and Contingency plan was approved in 2017.
The drill  was conducted with  support from Save the Children, Department of Disaster Management and education ministry.