Curtain fell on 4th India-Bhutan Tennis tournament
Sherub Dorji, Thimphu

Jun 4, 2018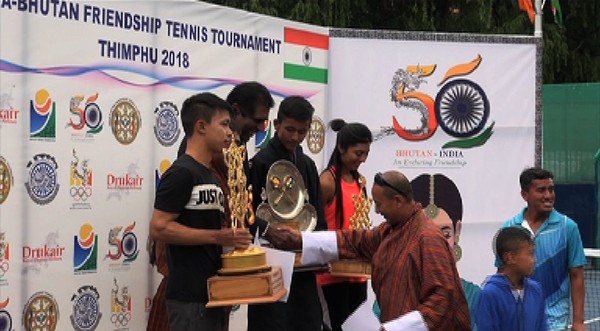 The fourth India-Bhutan Tennis Tournament ended yesterday with India's Vilasier Khate lifting the men's singles title for the third time.
He defeated Bhutan's Tandin Wangchuk in the final played at the National Tennis Center in Changlimithang, Thimphu.
Tandin Wangchuk is the first Bhutanese player to make the final of this tournament in the men's singles category. He was facing an opponent who had already won this tournament two times. Also in attendance at the final was a former tennis player from India, Vijay Amritraj.
When the match began, Vilasier Khate showed his desire to win the India-Bhutan Tennis Tournament for the third time. Tandin Wangchuk on the other hand offered no resistance as Vilasier wrapped up the first set, six-one.
In the second set, Vilasier raced to a three-love lead threatening an embarrassing final for his Bhutanese opponent. However, Tandin Wangchuk managed to win the fourth game but his fight was a bit too late as Vilasier Khate sealed the second set six-two to win the men's singles title.
Of the four editions of the India-Bhutan Tennis tournament, Vilasier Khate's has won the 2015, 2017, and this year's singles title.
"First of all I want to thank god, without him I won't be anything. The tournament is getting better every year and I want to thank the Bhutan Tennis Federation."
Shivika Burman won the women's singles event, which was played on June 2, for the third straight year.
"It feels really good. In fact, this is the first tournament ever that I have got a hatrick in and it is a really special tournament because my dad and me we come here every year to play the tournament. He plays the veterans, I play the women's," She added.
Thongban Tulesor Singh who won the veteran's category, and Tenzin Singye Dorji and Mandhoj Pradhan who won the lucky mixed doubles title was also presented with their trophies. The finals for these categories were played on June 2.
Over 70 players from Bhutan and India competed in this year's edition of the India-Bhutan Tennis Tournament. The tournament also marked the 50 years of friendship between Bhutan and India.