Surprisingly Bumthang sees impressive number of women's volleyball teams
Kipchu, Bumthang

May 28, 2018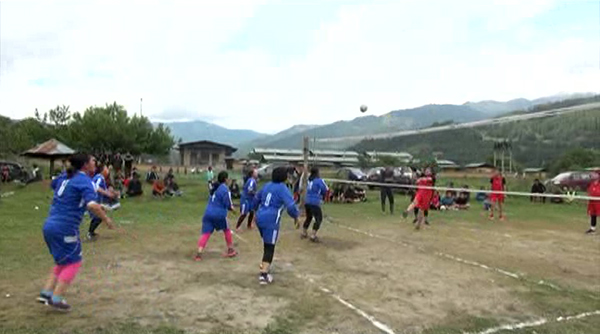 Despite lukewarm response in terms of women's team showing up in the National Volleyball Championship, the story is quite different in Bumthang.
Like men, women volleyball enthusiasts in Bumthang have equally participated in volleyball tournaments conducted in recent years.
Thirteen women's team participated in the volleyball tournaments organised in the district since last year.
This year's Open Volleyball Tournament organised by the Bumthang Sports Association saw six women's team against nine men's team. One of regular participants is the group of women who call themselves the 'Wangdicholing Aum.'
Almost all of them are housewives and most of them have already crossed their prime. However, these reasons never stopped them from playing their much-loved sport.
"Not many women participate in such sporting events, so we thought we should come forward and break this barrier. We hope younger women follow our footsteps," said Sonam Zangmo, volley player representing Wangdichholing Aum.
Others in her age group expressed similar views. "I never participated in sports during school days. But I tried my hands on sports few years ago. Now we take chance when such tournaments are being held," added another player from the same team, Kuenzang.
Likewise, there are other private individuals, who are willing to encourage women's participation in the sports.
"There were reports in BBS News talking about how apathetic women are towards the sport but here we are doing well. Hotel AmanKorais planning to organise another tournament to raise funds to conduct community services," said Singye Dorji, volleyball player from team Saki.
The Bumthang Sports Association has also proposed budget to organise similar tournaments in the next financial year. The association is also hopeful that even more women's team will turn up once the ongoing multi-sports complex which will have an indoor volleyball court is complete.