MPHA expected to be commissioned in November
Passang, Trongsa

Mar 7, 2018
The Mangdechhu Hydroelectric Project Authority (MPHA) in Trongsa is scheduled for completion, testing and commissioning in November this year. About 94 per cent of the works have been completed so far.
According to project officials, the initial commissioning was scheduled in June this year. However, due to labor shortage, the deadline was extended by three months.
MPHA's managing director said the project's contractor Jai Prakesh Associates earlier used to have 3,500 workers, but now it is reduced to 1,000. This has affected the construction of the concrete dam and the underground powerhouse.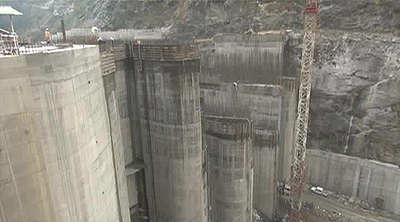 The contractor engaged in the Head Race Tunnel works is also faced with acute shortage of skilled manpower, including heavy vehicle operators.
However, the major construction of the project is nearing its completion. "MHPA will plug the head race tunnel on June 30, 2018 and works are tapering down very fast," Managing Director A. K Mishra said.
"The dam has already come up to the top and we are trying to finish it by the end of June. Powerhouse works are also complete with no civil works as such."
 "Main component work is the hydro mechanical work, which we have already taken up and is under progress," said Kuldeep Kumar Sharma, the Executive Engineer of MHPA's Dam Complex.
"As said earlier, we are going to complete all civil works of dam on or before May 31. Then, whatever hydro mechanical work is left will be completed on or before August 31, 2018. So, we hope that with the present rate of progress, we can achieve before the scheduled time."
Prasad Giri, the project's Superintendent Engineer says the radial gate is the most important component of the hydro mechanical part in the dam.
"We have completed with the fabrication of all the components of radial gate manufactured in India and they are available at the site," Prasad Giri said.
"Civil works are getting ready and we have started erection of the gate, which is used for regulating the flow of water at the dam. We are very optimistic that we are going to complete the erection and commissioning of the radial gate by August 31, 2018."
The execution works of 720-megawatt hydropower project along the Mangdechhu in Trongsa began in 2011.
Once commissioned, the project is expected to generate about three billion units of electricity and earn about Nu 8bn annually. This is assuming electricity from the project is sold at the cost of 2.5 ngultrum per unit.