Gewog nomination and selection process started for aspirang NC candidates
Tshering Dendup, Thimphu

Mar 2, 2018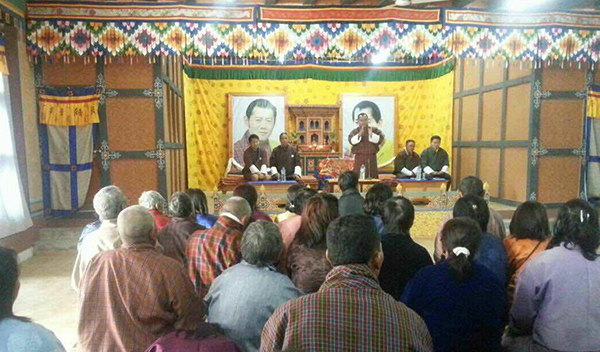 In a run-up to the National Council elections (20 April), the Election Commission of Bhutan (ECB) has started conducting Dhamngoi Zomdu process in gewogs and dzongkhag thromdes to select nominees since 24 February.  Currently, the nomination and selection process is underway in 10 districts.
During the Dhamngoi Zomdu, voters in each gewog or dzongkhag thromde will select which aspiring candidates will contest for the council elections. After the selection process, the candidates will file their nominations to the returning officers for thorough scrutiny, which will be done for two days.
Candidates, wishing to withdraw from contesting for the election can do so before 22 March. After that, common forums, public debates, and door to door campaigns will take place. Candidate will have to stop election campaign exactly 48 hours before the poll day.
Sonam Tobgyel, the Head of Department of Election with ECB told BBS News: "Chaired by the Chief Election Coordinator in the dzongkhags who are the dzongdags, each district is required to have coordination meeting, which is expected to bring out the exact dates and schedule for Dhamngoi Zomdu."
There are more than 170 aspirants contesting for the upcoming NC elections.  Of that, Dagana Dzongkhag has the highest at 26, followed by 18 in Tsirang. Bumthang has a lone aspiring candidate.
There are eight female aspiring candidates and they are from: Chhukha, Dagana, Monggar, Pema Gatshel, Samdrup Jongkhar, Trashi Yangtse, Tsirang, and Punakha.
ECB has also notified the public to refrain from attending any public gathering from February 15 to May and from August to October.
Except for nation events, which is organised by the state, all gatherings including religious ceremonies and activities will not be allowed during the election periods. But unavoidable rituals in case of death would be considered.