Snow leopard footages caught on camera traps in JSWNP
Phub Gyem, Thimphu

Oct 12, 2017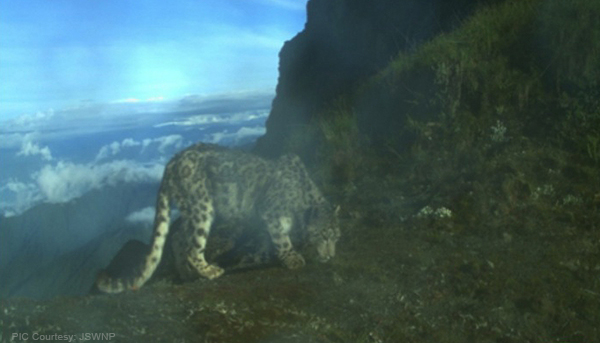 For the first time ever, camera traps set in Jigme Singye Wangchuck National Park (JSWNP) have captured snow leopard footage, confirming the presence of the vulnerable cat species in the park.
The elusive cat species was captured on two camera traps installed at a place called Argutsela, which is just before reaching the Black Mountain region. The camera traps were actually set to monitor tigers in the Black Mountain region.
Park officials said it is a great moment of pride for both JSWNP and the country to have discovered an additional home range for snow leopards.
However, it is yet to be ascertained whether the footage captured on the two camera traps are of the same snow leopard or of two different snow leopards. The park is also yet to confirm whether the animals are among the list of 96 snow leopards already recorded by the 2016 National Snow Leopard Survey.
Blue sheep is known to be the main prey species for snow leopards. But JSWNP has no record of blue sheep presence.  Therefore, its presence in the park despite the lack of its main prey species is thought to be an indication of snow leopards embracing new habitat and prey base for its survival. Park officials speculate musk deer and goral to be the main prey base for the snow leopards in the park.
Snow leopards are regarded as indicator species of the health of mountain ecosystem. Its presence across the country perhaps is a sign that much of Bhutan's high-mountain ecosystem is healthy.