DLG recommends suspension of Chang Gup
Changa Dorji, Thimphu

Oct 6, 2017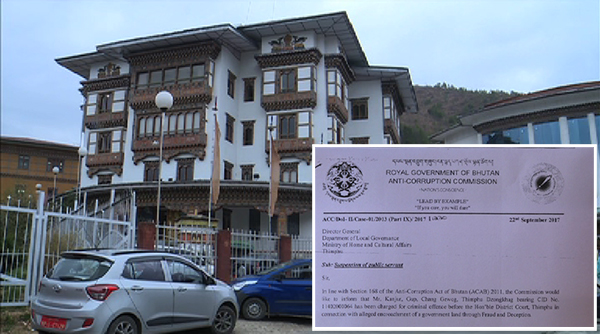 The Department of Local Governance (DLG) has written to Thimphu Dzongkhag Administration, calling for the suspension of the serving Chang Gup Kanjur for his suspected involvement in a state land encroachment case.
The department recommended that the suspension, which came into effect from the 1st of this month, be in place till the court reaches a decision on the case.
The DLG's action follows a letter it received from the Anti-Corruption Commission (ACC). The ACC letter says since Chang Gup Kanjur is charged with criminal offence, the commission stated he should be either suspended or prevented from using public resources, including office time, for appearing before the court of law.
But, as of yesterday, Thimphu Dzongrab said they have not yet received any letter from the DLG.
The Gup says he did not receive suspension notification from the dzongkhag administration. However, he said he did receive a copy of a letter from ACC stating he would be barred from using office hours to appear in court.
"But I have seen government officials appearing in court during office hours," said Gup Kanjur. "They also visit our office for land sale-deed purposes during office hours. I don't know why the law treats people differently."
He said he will, however, respect the order and added he cannot make any comments about the case since it is sub judice.