Thimphu Lhamoi Drupchen attracts thousands
Pema Seldon Tshering &Tshering Dendup, Thimphu

Sep 27, 2017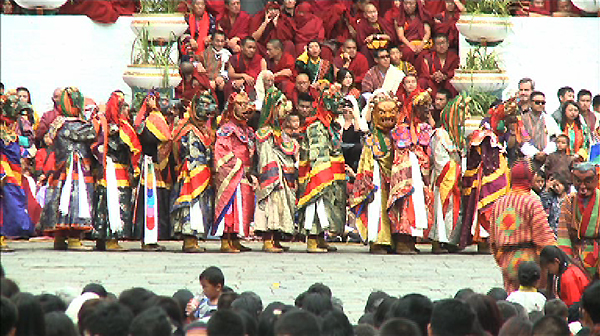 Thousands of people gathered in the courtyard of Tashichhodzong to witness the annual Lhamoi Drubchen in Thimphu yesterday.
Lhamoi Drubchen, according to the Central Monastic body, is among the sacred festivals in the country. It is dedicated to Pelden Lhamo, the protective deity of Bhutan.
"Our forefathers say that Lhamoi dromchoe is a direct blessing from the deity," said Wangchuk, a spectator. "We also heard that if we witness the festival, it will benefit us in our afterlife."
Thimphu Lhamoi Drubchen was instituted in between 1705 and 1709 by Je Kinga Gyesthen, the first re-incarnation of Jampel Dorji, son of Zhabdrung Ngawang Namgyal.
Legend has it that Pelden Lhamo appeared before Je Kinga Gyeltshen while he was meditating and performed the dance.
The Drubchen is followed by the three-day annual Thimphu Tshechu, which begins Saturday.