Inadequate training facility a challenge, say athletes
Sherub Dorji, Thimphu

Apr 21, 2017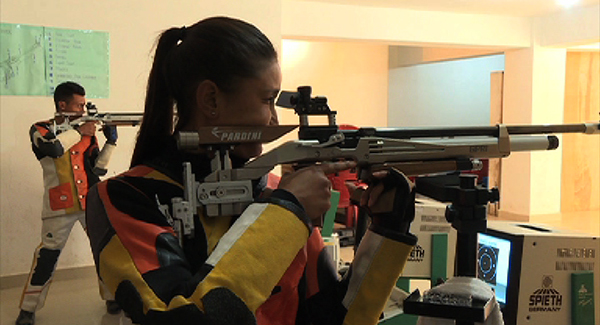 Lenchu Kunzang represented Bhutan at the 2016 Rio Olympics in the 10-meter air rifle shooting competition. A key lesson she returned home with from her first Olympic stint is that competing in world championships requires a lot of training and practice, something that is lacking in Bhutan, at least in comparison with international athletes.
Lenchu says inadequate training and practice facility is what puts Bhutanese athletes at a disadvantage at the international championships. " We can't compare with others. Our facilities do not match up to theirs. All we can do is to give our best."
Bhutan has had some successes at regional sporting events. For instance, the Bhutanese shooting team recently won 19 bronze medals at the Indo-Bhutan Big-bore Shooting Championship.
However, qualifying for the Olympics games or winning at the Olympics still remains off limits to Bhutanese athletes. While there are a host of factors at play, like Lenchu, other Bhutanese athletes agree that lack of adequate training facility is one of them.
The Head Coach of the Bhutan Shooting Federation, Dorji Phurba, said Bhutan participated in the 2012 and 2016 Olympics on wild card entry. "It would be good if we can qualify and it's not that our athletes do not have the capability to qualify. It's because we don't have good equipment," said Dorji Phurba.
Bhutan currently competes in 10-meter air rifle at the Olympics, 10-meter air pistol and 300-meter big bore. Works are underway to construct a shooting complex at Ramtokto.
Lack of tough internal competition is seen as another factor. Dorji Phurba said there is a need for strong national competitions. "Having a state of the art facility does not guarantee success. We need to have standards set to compete in state level competitions. This will help us produce quality athletes."
Just last month, the shooting federation organized an open championship for the under-sixteen. Events like this to encourage practice at an early age will go a long way in producing talents for the future.
The challenges are many but this does not prevent Bhutanese athletes from trying hard. Lenchu Kunzang, for instance, is working hard so that she can qualify for the 2020 Tokyo games without relying on the wild card entry.
"I don't want to wait for the wild card entry. Rather, I would like to work hard and make sure to qualify for the 2020 Olympics as well."