Monsoon comes with a price
Karma Wangdi, Gelegphu

Jul 11, 2019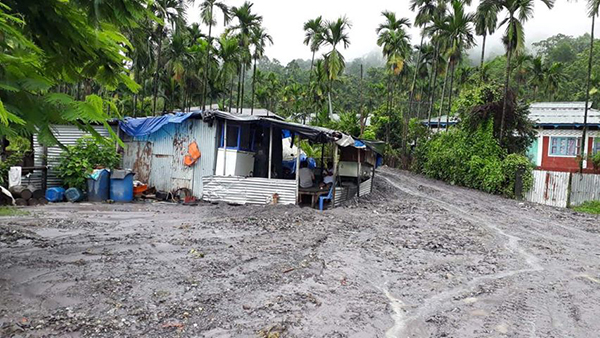 While the monsoon blessed some farmers, it also created havoc in some parts of the country. The heavy shower accompanied by strong winds triggered landslide and flash flood in Gomchola kha village under Shompangkhag. Stormwater flooded the village at around midnight yesterday.
However, Sarpang Dzongda accompanied by officials along with gewog administration visited the site on time with an excavator and managed to stop flowing of stormwater into the village. This is the second flash flood in the village, the first flash flood occurred last month.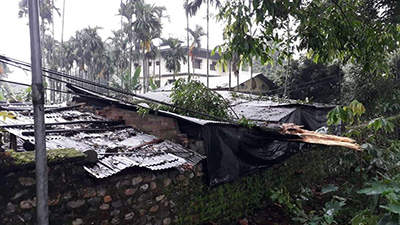 "Lots of water started pouring into our village. There is no place to go and if we stay, we don't know what will happen to us. All the neighbours got up and just stare here and there lighting torch lights," Deki Sherpa, from Gomchola kha village in Sarpang, said.
"We have no other alternative but to stay here. There is a danger but even then the government has been helping us with the construction of gabion wall for protection," Chhimi Dorji also from the same village added.
However, Shompangkhag gup said that they are looking for an alternative to relocating the village to a safer place in future because the village is located on a slope and landslide are likely to occur in future.
"Government spending huge amount would be a waste. We have collected households' data of this village and we are planning to provide a land substitute at a safer place," Suk Dorji Yonjon, the Shompangkhag Gup said.
A Semi-permanent house in Shetikhari along the Gelegphu – Zhemgang highway was also damaged yesterday night. The strong wind and heavy rain brought down a tree on the rooftop of the house, partially collapsing the house. Except for a minor injury to one, there was no other casualty reported. There were six people, four adult and two children when the incident happened.
The Dzongkhag administration along with thromde officials and Desuups visited the site and helped the occupants to evacuate their belongings to a temporary place. Gelegphu Thromde provided tarpaulin to them this morning.