Health Ministry establishes mobile flu clinic permanently in Thimphu and Phuentshogling
May 4, 2021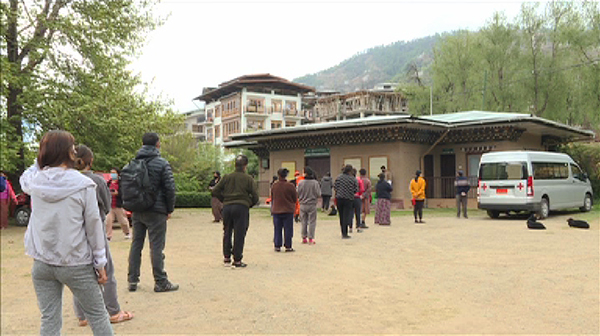 Countries in the region are grappling with the second wave of COVID-19. The risk of an outbreak in the country is also very high. In view of this, the health ministry has introduced mobilising mobile flu clinic permanently in Thimphu and Phuentshogling which was a pilot project initiated during the second lockdown.
The mobile flu clinic will be stationed at 30 places in Thimphu with its three teams allocated each in the northern, central and southern part of Thimphu as per the given schedule. The programme will also be permanently started in Phuentshogling to improve the accessibility and ensure coverage with flu clinic services for the people residing at the outskirts of the city.
"The primary objective of introducing this mobile flu clinic is to enhance the surveillance and testing capacity in the country. As you know that the number of cases is rising in our neighbouring countries and even in Nepal, a similar situation has come up. So that we can detect COVID cases as early as possible so we are introducing it as permanent mobile flu clinic," said Rixin Jamtsho, the Chief Program Officer with the health ministry.
The mobile flu clinic services will be expanded to Gelegphu in the next phase followed by Samdrup Jongkhar and Samtse according to the feasibility and number of patient turnover at the mobile flu clinics. The clinic will test the people for COVID-19 along with TB, HIV, Hepatitis, Syphilis, Malaria and Dengue.
"In the mobile flu clinic, those who are having the signs and symptoms of flu or COVID-19 are given the priority along with that we are also testing for TB, HIV and if it's in the south we have established it in Phuentshogling also. There they are going to test for malaria, dengue, and all these fever-related diseases."
With COVID safety protocols in practice, people can visit the mobile flu clinic following the schedule given on the health ministry's website.
"There are many benefits of the mobile flu clinic. They not only test for COVID but also other diseases like AIDS. We don't have to take the trouble to go to the hospital and pay taxi fare but simply avail the service here.  And in hospitals, we have to be in queue whereas here it takes only 30 minutes," said Tshering Wangmo, a visitor at the mobile flu clinic in Thimphu.
"Besides COVID-19, there are more dangerous diseases like sexually transmitted diseases (STD); such diseases have been left at the back of their mind because of the COVID-19. This move checking for STI is a wise initiative," added Pelden, another visitor.
So far about 6,000 people have been tested for COVID-19, 954 for STDs (HIV, Hepatitis and syphilis) and 40 for TB. Seven COVID-19 positive cases were detected from the mobile flu clinic and one HIV case since the second nationwide lockdown in December last year.
Kinzang Lhadon