Bhutan's two-front war, pandemic and infodemic
Aug 29, 2020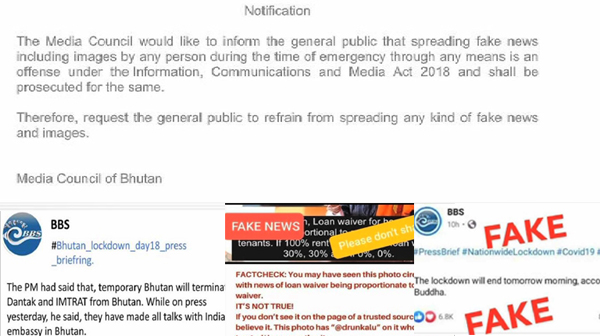 What is spreading faster than coronavirus? It is fake news. With the current pandemic taking a toll on the nation, fake news doing rounds on social media platforms undermines all the efforts exposing the nation to two-front war; the pandemic and infodemic.
A fake news post about the Prime Minister to temporarily terminate DANTAK and IMTRAT from Bhutan went viral on Facebook since yesterday. The account is disguised as that of the national broadcaster, Bhutan Broadcasting Service Corporation (BBSC). And recently, there was another false claim of the Prime Minister announcing the lifting of nationwide lockdown. And these are not isolated cases of fake news making the rounds on various social media platforms.
Amid the pandemic, the Bhutan Media Foundation is working closely with the Journalists Association of Bhutan and media experts to combat fake news by flagging it and explaining the context to the public. The Foundation believes empowering the mainstream media with timely and free access to information is a powerful shield against fake news and misinformation.
According to the Media Council of Bhutan, spreading fake news including images of a person during the time of emergency through any means is an offence under the Information, Communications, and Media Act of Bhutan 2018. It is a fourth-degree felony.
Meanwhile, the BBS management is seeking legal advice on filing the fake news case using the company's name with the Royal Bhutan Police. The Chief Executive Officer of BBSC said such practices are serious during normal times and it is even more critical during emergencies. He said, at this juncture, fake news could disrupt the efforts of the government and others through misinformation among the public.
Samten Dolkar