Trashigang Dzongkhag Tshogdu agrees to blacktop the Merag GC road through Khardung
Jul 31, 2020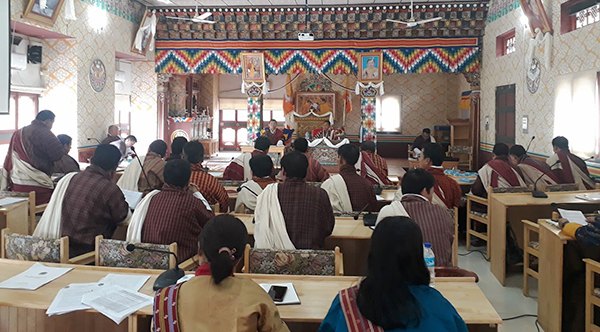 After the Dzongkhag Court dismissed the petition submitted by three Tshogpas from Trashigang to relook into the Ministry of Works and Human Settlement's directive to blacktop the Merag Gewog Centre road from Khardung overturning the Trashigang Dzongkhag Tshogdu's decision to do it from Chaling, the Tshogdu also agreed to blacktop the GC road from Khardung.
In the last session, the Tshogdu decided to blacktop the Merag GC road through Chaling under Shongphu Gewog. The decision favoured residents of Chaling and Shongphu in Shongphu Gewog and Tongling in Radhi Gewog. However, the MoWHS directed the blacktopping works to be done from Khardung. This led to disgruntlement and the tshogpas of the three chiwogs submitted a petition to the Dzongkhag Court on Monday which was, however, dismissed yesterday by the court.
During the Dzongkhag Tshogdu today, the chairperson informed the House that the road from Khardung is identified as Merag GC road because of it being more suitable for blacktopping and moreover the government has already allocated the blacktopping budget of the GC road through Khardung.
The Merag GC road through Khardung is 37 kilometres long from the highway.
Sonam Darjay