Bhutan Premier League to kick off from August 1
Jul 20, 2020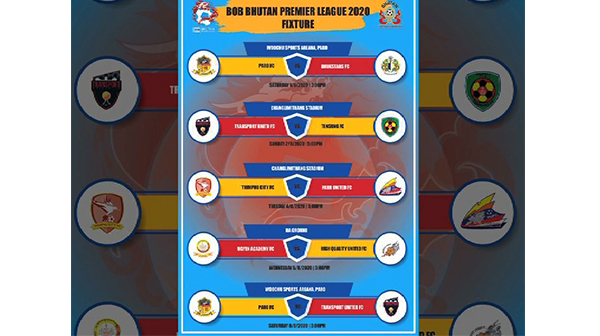 Bhutan Football Federation is all set to begin the Bhutan Premier League, the top football league in the country from August 1.
The tournament, which was to begin this month, was delayed due to the COVID-19 pandemic restrictions. However, with the government's green signal to go ahead with the sports tournament, eight teams from Thimphu, Punakha and Paro are participating in the league this year.
Unlike other times, the teams this time have no foreign players due to the pandemic situation. The league will also see Tensung FC making their debut appearance this year. They won the Thimphu League last year and finished third in the Bhutan Super League, ultimately guaranteeing them a spot in the Bhutan Premier League 2020. Tensung FC will use the Military Training Center's ground in Wangdue Phodrang as their home ground.
Likewise, High Quality United FC, Paro United FC and Druk Stars FC have also made their way back into the league after being relegated from the competition last year.
As per the fixtures released by the Bhutan Football Federation, the first match will kick off on August 1 between the defending champion, Paro FC and Druk Stars FC at the Woochu Sports Arena in Paro. Meanwhile, BPL in Thimphu will begin with Transport United FC going head to head against Tensung FC on August 2.
However, unlike the previous edition of the league, the league this year will follow the COVID-19 safety measures regulated by the health ministry and WHO. All the league matches will be played in closed-door stadiums. All players and officials will have to wear masks compulsorily during the match day, official training, and especially in the official areas and the substitution bench.
Besides this, temperature readings of players, coaches and technical staff will also be taken before and after the match. The usual custom of pre-match handshakes has been prohibited and players have also been briefed to try and avoid physical contacts during goal celebrations.
The Bhutan Football Federation will be streaming the matches LIVE on Mycujoo, an online sports streaming platform.
Passang Dorji