Bhutan's population to remain below 1M mark even by 2047: NSB report
Sherub Dorji, Thimphu

Jan 13, 2019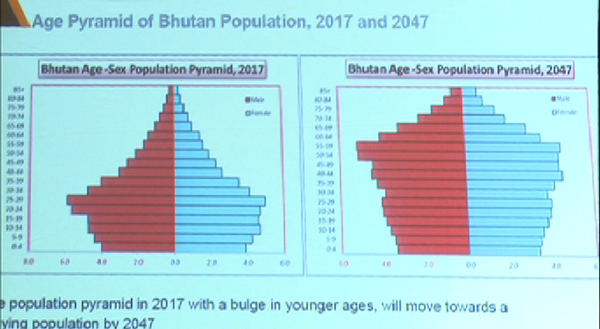 Bhutan's population will stay below the one million mark even by 2047, which is in the next 28 years, says Population Projections Report for 2017 to 2047.
The National Statistics Bureau (NSB) released the report in the capital on Friday (11 January).
The recently released report reveals that Bhutan's population will reach 883,866 in 2047.
Further, the report brings to attention that Bhutan has been experiencing sharp decline in the number of babies born in the recent years.
This trend is expected to continue with fertility rate remaining below the replacement level of 2.1.
The fertility rate looks at the number of children given birth by a woman during her entire reproductive age.
At present, a woman in the reproductive age is giving birth to 1.9 babies. This is expected to decrease to 1.7 by 2032- a point where there is no return.
The declining fertility rate means by 2047, only 11 babies would be born per 1000 people.
This will substantially hit the annual population growth rate, which will reach to just 0.27 per cent in 2047 from the current 0.99 per cent.
However, the number of deaths, which is the mortality rate, is also expected to fall.
The crude death rate, which is deaths per thousand populations, will remain marginally same at eight deaths per thousand people.
By the mid 2020s, working age population would constitute of 70 per cent of the country's total population.
From the present 26 per cent of the child population, it will drop to 17 per cent from mid 2020s, states the report.
On the flipside, the aging population will see its number rise to 13 per cent from current 6 per cent.
The report also indicates more than 260,000 people will reside in Thimphu by 2047, double the size of the current population.
People living in urban areas will outweigh those in the rural areas. However, apart from Thimphu, no other districts will see a population of over 100,000 persons.
With the report mentioning sharp decline in fertility rates, the population in the school going age would decline gradually calling for a policy shift in the education system.
By 2047, half of Bhutan's population will be above 40 years of age. This, as per the report will see increase in non-communicable and degenerative diseases, giving more pressure on the health and other social services.