Seed agreement for better accessibility of seeds
Pema Tshewang, Thimphu

Jul 6, 2018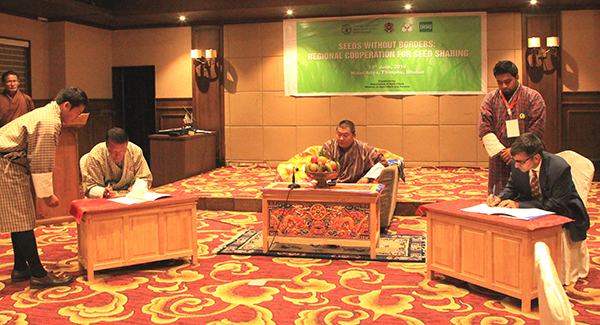 Bhutan will now have better access to import improved variety of seeds from six other member countries of Seeds Without Borders (SWB) project. Including Bhutan, SWB has seven member countries-Bangladesh, Cambodia, India, Myanmar, Nepal and Sri Lanka.
To formalise the deal, the Ministry of Agriculture and Forests signed the seed agreement with SWB last month. The signing was coordinated by the International Rice Research Institute based in Philippines.
The agreement states the member countries can import improved and commercially available variety of seeds from each other without much restriction. Earlier, it was difficult.
"If Bhutan needs a variety which is very popular or doing well in one of the member countries, then it can easily import the seed from any of the member countries," said Wangda Dukpa, Chief Agriculture Officer, adding: "Within the purview of the agreement, without any restriction, Bhutan will have access to import seeds and vice versa."
Wangda also highlighted other positive aspects of the agreement.
"Under the normal seed variety evaluation, we take at least 7 or 8 years to produce one variety. So with this agreement in place, we don't have to waste time doing evaluation. For instance, if a seed is already giving better yield in one of the member countries, we can simply ask for it."
However, agriculture officials say Bhutan will currently focus on cereal based seeds such as rice, maize, and pulses. The agriculture ministry's 2018 report has highlighted 23 varieties of rice grown in the country.