Many farmers reaping benefits of Sustainable Land Management Project
Sonam Tshering, Monggar

Jun 20, 2018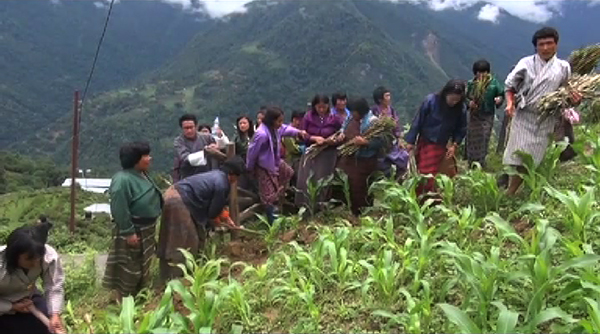 A three-year pilot project on sustainable land management has benefitted many farmers of Jarey Gewog in Lhuentse. The project is a scientifically proven and widely accepted global initiative towards combating land degradation.
The National Soil Services Centre under the Ministry of Agriculture and Forests launched the pilot project in Lhuentse and Monggar districts in June 2015.
While observing the World Day to Combat Desertification and Land Degradation on June 17 in Jarey Gewog, farmers acknowledged the Department of Agriculture for rolling out Sustainable Land Management Project in their gewog.
They added the project has improved their agricultural practices.
As part of the event, farmers also planted some Napier hedgerow (grass) in farms.  The fodder plant, which is used as fodder for cattle, is also found helpful in increasing the soil fertility and managing land sustainably.
"When the project was first initiated in the gewog, we were doubtful about its success. But now, it has immensely benefited us and the government is providing continuous support to us," tells one of the farmers, Tashi Yangzom, adding: "Soil fertility has improved after planting Napier grass."
Some others share her opinion. "We have a very limited arable land in Jarey. So if we don't manage it properly, we will face problems in future. But the project has benefited us," added another farmer, Kinzang Thinley.
The Sustainable Land Management Project also piloted in Gangzur Gewog in Lhuentse and Thangrong Gewog in Monggar, recently.
The local leaders have also given thumbs up to the project which includes: slope stabilisation, Napier hedgerow plantation and stone budding to level the land.
"Jarey Gewog is located on a sloppy area. So during monsoon, fertile soils are washed away by rain causing land degradation. But since the launch of the Sustainable Land Management Project in 2015, the level of the farm lands improved and crop productivity also increased," said Kinzang Minjur, Chairperson of Lhuentse Dzongkhag Tshogdu.
Bhutan Trust Fund for Environmental Conservation funded Nu 11m for the two pilot projects of Sustainable Land Management in Monggar and Lhuentse. In Bhutan, forest fires, excessive use of forest resources, overgrazing, urbanisation and industrial development are some of the main causes of land degradation. To address these issues, the first national land management campaign was held in eastern Bhutan in 2005.