Health ministry launches blood donation app
Sonam Pem, Thimphu

Jun 14, 2018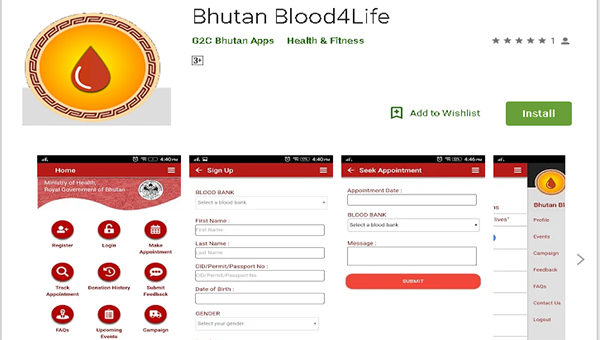 The health ministry launched an app for blood donation as it marked the World Blood Donor Day in Thimphu today.
Called Bhutan Blood4life, the app can be used by the donors as well as the recipients. "Basically it's like blood sourcing from the community," Dr. Mahruk Getshen, JDWNRH's Blood Bank said.
"They can use the app to register as a blood donor and make appointments for blood donation, and then visit the blood banks for actual donation. It also helps in information dissemination in times of emergencies and disasters when we need many people to donate blood at one go."
Dr. Mahruk Getshen said 97 per cent of the country's population has mobile network coverage and it makes sense to have a mobile phone app for blood donation.
As part of the program, donors and recipients shared stories of how blood donation has helped save lives and how that motivates donors to continue giving blood.
"I started when I was in high school and ever since I have donated about 25 times, and it's been really fulfilling," Kuenga Lhendup, a regular donor, said.
"It feels good when you know that the blood you donate can save lives. The blood is right there in the body, regenerating on its own. There's no adverse effect on your health. It feels really good. "
"I started around six years ago when I was at RTC," Rasmika Pradhan, another regular donor, said.
"By giving blood, you are giving someone few more years of life and that makes me feel good."
Bhutan aims to achieve 100 per cent voluntary blood donation by 2020. At the moment, it is 77 per cent.