Bailey bridge over Sukreti river in Samtse to be launched soon
Damcho Zam, Samtse

Jun 13, 2018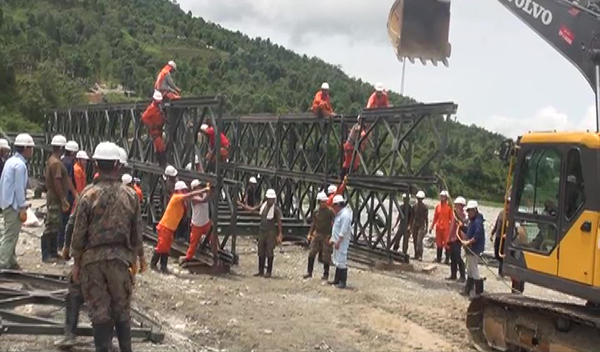 About a hundred people are working to launch a bailey bridge over Sukreti River in Samtse. The team comprising of DeSuups, armed force personnel, civil servants and engineers from the Department of Roads have been working since Monday.
The launching works, which is a part of a training, will be complete by June 16.
"Now, I know how to connect bridge parts and to maintain balance while launching various parts," DeSuup Lhab Tshering from Thimphu said.
Migma Wangchuk from Royal Bhutan Army said should a disaster strike, they will be able to lend their support in launching bailey bridges.
"If people working in the districts know these works, then I don't think officials have to come all the way from Thimphu to monitor such works."
The team starts working as early as 8am and continues for about ten hours a day.
The DoR officials said it is an initiative to train as many people as they can so that they will be helpful during disasters.
"This kind of bridge is very easy to construct and is launched especially during emergencies. Once we provide hands-on training to them, whenever and wherever we face disaster-related issues, they will be called for assistance," Karma Wangdi, the Chief Engineer of Bridge Division, DoR in Thimphu said.
It is the final round of training, which started last year with eastern and central regions.
The bailey bridge over Sukreti River will benefit two gewogs of Samtse and Phuentshogpelri. A road link to Phuentshogpelri Gewog will be established directly from Samtse with the completion of the bridge.
The bridge is expected to open to traffic by the end of this month.