Bhutan-India bilateral trade
Phub Gyem, Thimphu

May 18, 2018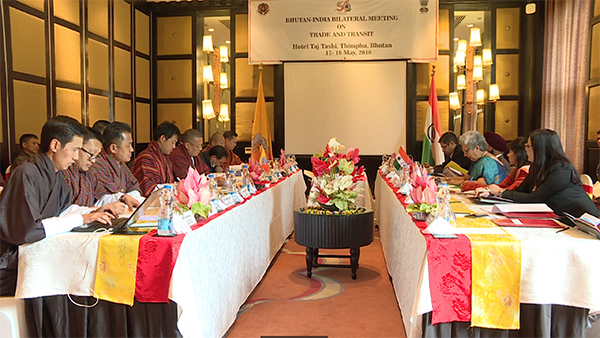 The bilateral trade between Bhutan and India has seen a steady growth over the years. The total trade accounts for close to Nu 85 bn. This was revealed at the two-day Bilateral Meeting on Trade and Transit between Bhutan and India, which ended today.
The Secretary of the economic affairs ministry said the trade balance has always remained in favor of India. Bhutan's total export stands at nearly Nu 32 bn against import, which is nearly Nu 54 bn.
The commerce secretary of India said Bhutan's export rate has increased over the years.
The secretary of the economic affairs ministry expressed that Bhutan remains optimistic about benefitting from the growth of Indian economy. India's economy is projected to grow at 7.8 per cent in 2019.
There were also discussions on developing institutional linkages between the Bhutan Standards Bureau and the Bureau of Indian Standards to facilitate more trade.
A news release from the ministry shared the officials also discussed issues and problems confronting Bhutanese traders while trading with India, such as the impact of GST and associated challenges.
During the two day meeting, the delegates shared the progress of the development of Jaigaon Integrated checkpost to facilitate Bhutan's trade.
Bhutan also agreed to undertake a joint study to study the impacts of pollution on Indian tea estates across the border. The Indian counterpart raised concerns over the adverse effects of mining and untreated discharge from Pasakha industrial estate in their tea estate.
India's commerce secretary also shared that they would be happy if Bhutan ratifies the BBIN Motor Vehicles Agreement for Regulation of Passenger, Personal and Cargo.
The trading relationship between the two countries is covered under the agreement of trade, commerce and transit. The trade agreement was renewed in 2016 and ratified in July, 2017.