Her Majesty The Gyaltsuen receives Zhung Dratshang to their summer residence
Pema Tshewang, Thimphu

May 17, 2018
Her Majesty The Gyaltsuen received the Zhung Drastshang at the Lingkana palace as the monk body arrived in Thimphu, their summer residence, yesterday.
Upon arrival at the Tashichhodzong, the monk body was received by the Prime Minister, the Opposition Leader, the Chairperson of the National Council, Members of Parliament and several other senior government officials.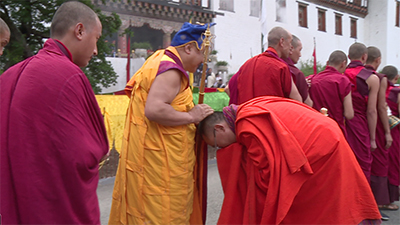 Hundreds of people lined up along the road to receive blessings from sacred relics as the Central Monastic Body made their way to Tashichhodzong from Simtokha Dzong.
Led by Dorji Lopen, the Zhung Dratshang or the Central Monastic Body left Punakha, their winter residence, on Tuesday.
The monk body will spend the next six months in Thimphu, their summer residence, before returning to Punakha.
The tradition of maintaining summer and winter residences dates back to the early 17th century, the time of Zhabdrung Ngawang Namgyal.
The monk body leaves for Punakha on the last day of the ninth Bhutanese month and returns to Thimphu on the first day of fourth Bhutanese month.
On their way to Punakha, the monk body spends a night at Thinleygang. Similarly, while returning to Thimphu, they make a night halt at Simtokha dzong.