Youth counselling app- mPower Youth proves effective
Sonam Pem, Thimphu

May 7, 2018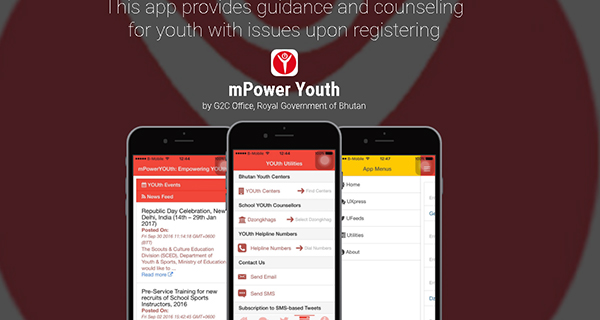 With various mobile application or apps launched every year, a youth counselling app called mPower Youth is proving handy to its users.
According to the Department of Youth and Sports (DYS), last year saw the highest number of youth registering and availing the service. This mobile app has filled the gap for those youth who are reluctant to undergo face-to-face counseling. Using the app, they can share their thoughts and be counselled anonymously.
Not only this, they can also access information on news and events, sports and recreations, job vacancies and trainings among others.
"Almost all youth have phones, so this has made services very accessible for them. And it is also confidential and they do not have to meet the counselor face to face. Through the telephone, they could actually access the services," said Tashi Pelzom, the Chief Programme Officer of education ministry, adding: "Last year, we actually catered to 111 youth,"
The DYS receives problems related to academic difficulties substance abuse, relationships issues and depression. Weighing the severity of the issues, the department comes up with intervention and prevention programmes.
"We had 52 young people registered for academic difficulties where they say they really do study but cannot perform well. Then we have 22 registered for relationship issues. On this, we counsel them on relationship with their friends, with their parents, with people around them.  Youth seek advice on substance abuse issue too," added Tashi Pelzom.
The app can be downloaded from the play store in the mobile phone. A total of 134 have registered in the app so far. The application was launched in 2015 but was officially handed over to DYS last year.