Car parks along Norzim Lam likely to be removed by year end
Kinley Dem, Thimphu

Apr 19, 2018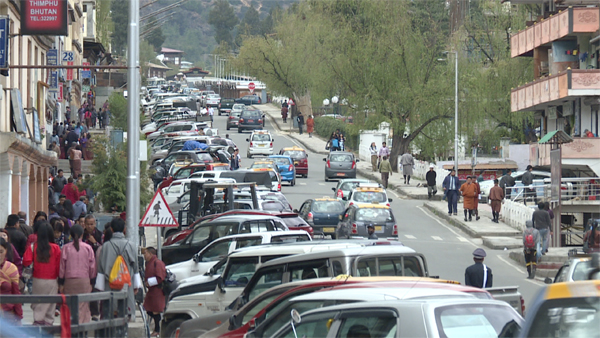 Thimphu Thromde will remove parking spaces along  Norzin Lam by the end of this year but only if the two mega car parks that are under construction meets its September deadline.  
"We have talked to the shopkeepers along Norzin Lam," Thrompon Kinlay Dorjee said.
"By the end of this year, over 200 parking spaces along Norzin Lam will be removed and turned into pedestrian-only zone."

One of the car parks is being built near the Thromde Office and the other near the Zangdopelri building. Together, the two car parks will have spaces to accommodate more than 500 cars.
"Although the deadline is September, we will start using at least one or two stories of the building towards the end of June or July,'' Thrompon Kinlay Dorjee added.
The long due car parks were planned in 2011 and it was due for completion last year. However, change in the design plan and addition of extra facilities delayed its completion.
The project cost is now estimated to exceed Nu 780 m, over Nu 100 m more from its initial cost estimation of more than Nu 630 m.
Once into operation, it is expected to earn the Thromde more than Nu 7 million annually in revenue.