Concerns over illegal waste disposal along Chamgang road
Pema Tshewang, Thimphu

Apr 4, 2018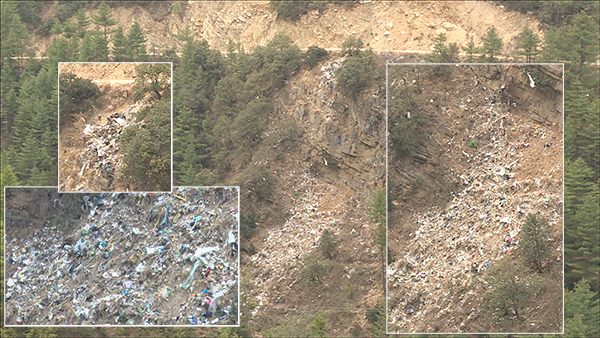 The area between the forest check post and Jakarp on the way to Chamgang in Thimphu has been turned into a trash field. Wastes of all kinds have been illegally dumped there, turning the place into an awful sight.
The issue once again surfaced at the recent Thimphu Dzongkhag Tshogdu (DT).
"The area falls under Thimphu Thromde and we did raise the matter in the earlier Dzongkhag Tshogdu as well," Darkala Mangmi Tandin Dorji said.
"The previous session had agreed on putting a signboard there."
But this has not happened and wastes have been mounting at the site. Heaps of construction wastes, plastics, torn clothes and kitchen wastes dot the place.
"People, on their way to meet prisoners in Chamgang, take wastes with them and dump it there," DT Chairperson Gado said.
"The place is a mess and it's about time it is cleaned. I urge Thromde Thuemi, in consultation with Thromde, to carry out the cleaning works at the earliest," the DT Chairperson added.
Thromde Thuemi Namgay Tshering says it's hard to say who is responsible for turning the place into a garbage disposal site.
"I don't think people living in the Thromde areas would go all the way up there to dispose of their wastes because we provide garbage trucks at least twice a week," he said.
However, the Thromde Thuemi agreed to clean up the area soon and also erect an awareness signboard.