Paro to have artificial turf football ground in 12th FYP
Sangay Chezom, Paro

Feb 27, 2018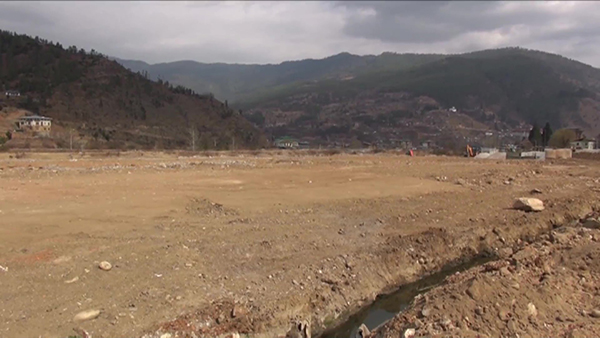 Days for the football enthusiasts to play football on rough grounds of schools in Paro are numbered. The Municipal Authority of Paro in association with Bhutan Olympic Committee (BOC) is soon going to construct an artificial turf football ground in Paro.
The six acres of land, few metres above the office of Municipal Authority was once a landfill of the Paro Dzongkhag. However, today, municipal plans to construct artificial turf football ground there.
"The plan was dropped in the current Five-Year-Plan and we had to include in the 12th Five-Year-Plan. Moreover, we don't have the football ground anywhere around the town, so we felt the need to have one," told the Municipal Engineer, Kencho Dorji to BBS News.
He also said: "Whenever the dzongkhag had to organise national events, we had to do it either at Paro College of Education or Drukgyal school. Organising events at these places is quite problematic at times, so we decided that we must construct a ground at the landfill site."
In the meantime, BOC is designing the structure of the football ground and will provide the artificial turf. The Municipal Authority has proposed a budget of Nu 17m from the Small Development Grant for the construction of sitting gallery, parking areas and fences.
"This is the first project of the 12th FYP and we have proposed the budget and we are waiting for the budget. As soon as we get the budget, we will start with the construction works," shared the Municipal Engineer to BBS correspondent in Paro, Sangay Chezom.
The municipal has also kept a separate fund to be used for removing the gabion wall to increase the width of the ground.