Demand brightens candle-maker's business
Damcho Zam, Samtse

Feb 19, 2018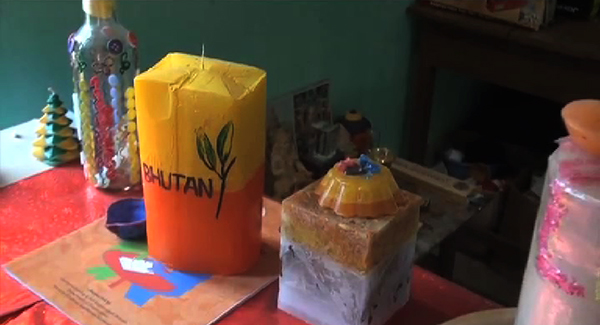 In this day and age where electricity has ousted candles in brightening homes, many would scratch their head if they have to do a candle oriented business. But, this has been proven wrong by 29-year-old Sushanta Sharma in Samtse.
Her two-year-old candle making business is currently creating a stir in Samtse.  The mass communication graduate told BBS News that her candles are sold like hot cakes during Hindu festivals such as Diwali and Durga Pujas. During usual days too, candles are being sold especially when villages are experiencing power cuts. "I could earn over Nu 21,000 during diwalis and marriage ceremonies," said Sushanta.
Her business is named "Sushi's Candles and Crafts," and is located in Tashichhoeling Gewog.
Residents in the gewog said, the lone candle making business is benefiting them. "We no longer need to go to Indian border town to buy candles when power is down. We can buy here," said one of the locals, Tika Kumari Giri.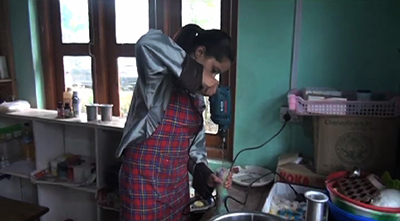 Other than Samtse, Sushanta receives orders from Thimphu and Chhukha.
Happy with the sweet scent of success,  she now endeavours to make her candle business a resounding success. "No matter whether I run into loss or generate profits, I have to keep this pace going until I make my business a complete success."
Sushanta said it was her passion that drove her into candle-making business.
She gets up as early as six and indulges in art of producing candles. She makes several types of candles: birthday candles, festive candles, ordinary candles and colourful candles.
It takes about half an hour to make one candle. The process starts with melting of wax and putting some glitzy colour dyes in a mould. Then, the melted wax is poured into the mould and after that, it's kept unattended for 30 minutes. Once the wax gets solidified, Sushanta drills to insert cotton thread into it.
The price of the candles ranges from Nu 15-300. She works for about eighteen hours to produce over 150 candles a day. She invested over Nu 300,000 to set up her candle business.