GST brought little benefits, says the private sector
Passang Dorji, Thimphu

Feb 15, 2018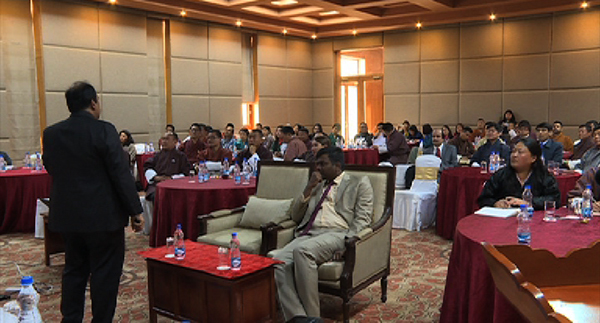 The introduction of Goods and Services Tax (GST) in India in July last year has not benefited them much, said some members of the Bhutanese private sector. This was pointed out at a meeting held in Thimphu yesterday with a team of GST specialists from India.
Goods and Services Tax or GST is a tax on supply of goods, or services or both, except taxes on the supply of alcohol.
The Chairman of Zimdra Industries Private Limited, Ugyen Tshechup Dorji, said they were very happy when GST was introduced and that they even informed people the cost of products would go down.
But the reality, he said, is that only vehicle import has benefited from the introduction of GST. "Vehicle import has seen a substantial advantage, but in general, majority of products are still priced the same."
"Currently, it is easier and convenient to do business with Bangladesh than with India," Singye Dorji, another businessman said.
Singye Dorji added the introduction of GST has had serious implications on the trade relations between India and Bhutan. "It has negatively affected the competitiveness of the Bhutanese industry."
A representative of Ice Beverages,Thuje Yonten, shared the same. "After the implementation of GST, our business has been affected severely, and immediately after the first July implementation," he said.
"Our sales plummeted by as high as 72 per cent. We have suffered massive losses and to this day, we still struggle to survive. The main issue was of course the sudden and overnight increase in tax liabilities on our company," added Thuje Yonten.
The participants also talked about various trade hurdles such as complex and lengthy trade documentation, prolonged certification process and lack of proper infrastructure in and around the border areas.
A member of the team of GST specialists from India, Commissioner Upender Gupta, said this is purely implementation and infrastructural issues.
"Anyway, we will discuss with our commissioners in Siliguri, Assam, and the entire north eastern sector and find out what should be done immediately to hasten the clearing processes and resolve infrastructure related issues," Commissioner Upender Gupta said.
To further speed up the certification and documentation process, the team also suggested signing of memorandum of understanding between relevant departments and organizations of the two countries.