First ever All Party Conference held in Thimphu
Passang Dorji and Kinley Dem, Thimphu

Dec 23, 2017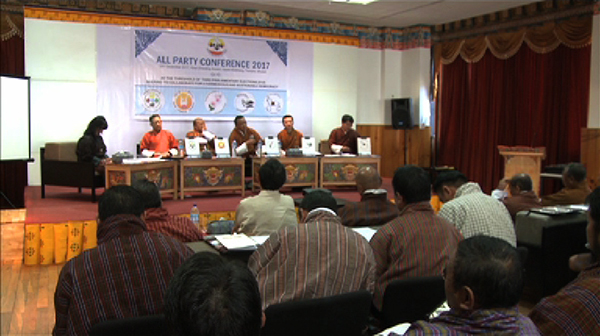 In a move towards creating a vibrant and harmonious democratic society, the first ever All Party Conference was held yesterday.
Representatives of the five registered political parties came together in Thimphu to discuss on the role of political parties as important institutions of democracy.
The party representatives talked about their constructive roles in promoting harmonious and sustainable practices in the spirit of 'Bhutanese First'. They said it is important in putting the nation ahead of their party.
"Bhutan is a small country with less population and there is every chances of citizens getting divided due to democracy," said the Chairperson of Bhutan Democracy Dialogue, Sonam Jatsho.
"Therefore we will bring all the party representatives together and ask them not to create any kind of division and let them know that the nation is more important than their registered parties," he added.
The conference also discusses about the importance of media towards creating a vibrant democratic society.
"Different parties will give different information, some may be right but some can be false information," said Sonam Jatsho. "It is the role of media to see whether it is correct or wrong."
Media representatives pointed out difficulty in access to information as one of the major challenge. The issues of unfair, defamatory and negative social media activities were also raised.
The All Party Conference organized by Bhutan Democracy Dialogue will be an annual event here after.