Strengthening voice, visibility of women leaders
Pema Tshewang, Thimphu

Dec 22, 2017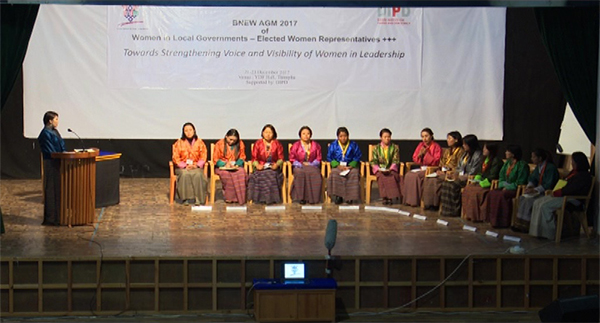 Poor women representation in decision making sphere still remains a reality in Bhutan. Lack of trust in women leadership continues to be one of the reasons why only few women make it to the positions of importance. 
The Bhutan Network for Empowering Women (BNEW), a Civil Society Organization that works towards promoting, facilitating and strengthening women's participation in governance, leadership, development and politics, is continuing its efforts to get more women into leadership positions.
BNEW has brought together more than 130 female Local Government (LG) leaders for it's Annual General Meeting of Women in Local Governments- Elected Women Representatives, which is underway in Thimphu.
The three-day programme aims at strengthening voice and visibility of women in leadership. The women leaders discussed about the stereotypes around gender roles and how that shapes peoples' perception about women's ability to take on positions that deviate from their conventional role of a home maker.
"Since we are in our homes most of the times, people think we are less capable of taking on leadership roles," said Sonam Dema, the Mangmi of Bongo in Chhukha.
"Whether it's the post of a Gup or a Mangmi, people think women are not made for it," said Karma Tshomo from Trashigang, who participated in the last LG elections but failed to get elected. "I participated in the election to encourage other women to come forward in the future."
Some women leaders emphasized the importance of women voices in decision making and addressing women related issues and concerns. "Usually, male leaders fail to look into issues concerning women," said Namgay Pelden, the Gup of Tashiding in Dagana.
"For example, when we talk about the need of toilets, usually, they don't think of constructing separate toilets for women."
The three day porgramme is also providing the participants a platform to share and reflect on their journeys and stories and use that to learn and empower each other.