Artificial turf ground for Samdrup Jongkhar
Kinley Wangchuk, Samdrup Jongkhar

Oct 18, 2017
Samdrup Jongkhar will have an artificial turf football ground by the end of this month. The laying of the artificial turf at the dzongkhag's football ground is going on in full swing.
Samdrup Jongkhar is the second dzongkhag in the east to get an artificial turf ground. The first artificial turf ground in the east is the one in Gyalpoizhing in Monggar.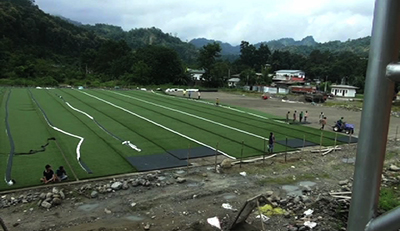 Football enthusiasts in the dzongkhag are excited. They say the new ground will generate more interest in the game.
"I moved here from Thimphu recently,' said Vishal Rai. "Everyone is excited and I am sure it will encourage more people to play the game."
"I think with an artificial turf ground, more people will come here to play the game," said Kezang Tobgay.
The Bhutan Olympic Committee (BOC) is spending around Nu 26 m to lay artificial turf in Samdrup Jongkhar.