Farmers in the east trained to become more enterprising
Sonam Tshering, Monggar

Oct 3, 2017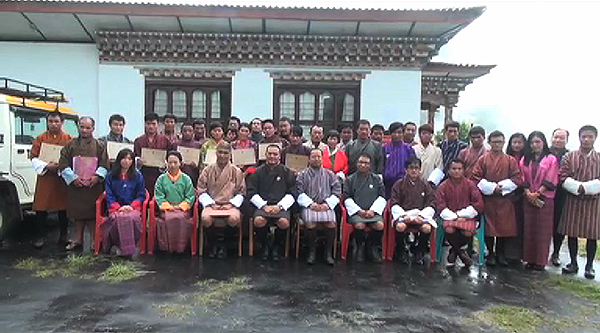 Twenty-four farmers from six eastern Dzongkhags completed the Lead Famers' training in Monggar recently. The five-day training was to acquaint farmers with post harvest and marketing skills.
Lead Farmers' training conducted at different intervals since September last year, covered topics ranging from farming technology options, crop establishment and management practices, to post harvest and marketing skills.
The trained farmers will have to share the skills and knowledge with other farmers in their respective Gewogs and villages.
"The farmers will have to train at least five farmers in their respective villages and Gewogs in a year," said the Senior Agriculture Supervisor at Wengkhar, Sangay Jamtsho.
Participants described the training as useful.
"We learnt about modern farming techniques and management of crop and fruit cultivation. We also learnt about post harvest and marketing of vegetables," said Norbu.
"Following the training, I even joined a vegetable cooperative in my village and was able to contribute a lot with the lessons learned through the training," shared another participant, Sangay.
The Agriculture Research and Development Centre in Wengkhar organized the training with support from Commercial Agriculture and Resilient Livelihood Enhancement Programme, CARLEP.