140 counsellors earn national certification for first time
Choni Dema, Thimphu

Sep 29, 2017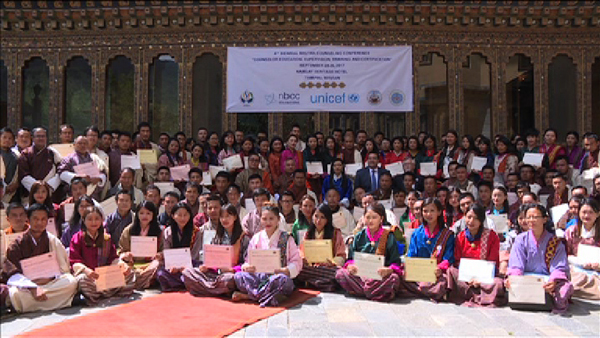 For the first time, Bhutan Board for Certified Counsellor has certified 140 Bhutanese counselling professionals as National Certified Counsellors. Her Royal Highness Princess Kezang Choden Wangchuck awarded the certificates to the counsellors during the inaugural session of the 4th Biennial Bhutan Counseling Conference in Thimphu yesterday.
The counsellors have been trained in various capacities before becoming a certified counsellor.
"The certificate will ensure that counsellors will have their position and place to provide better services to youth and students," said Dawa Tshering, the School Guidance Counsellor of Norbuling Central School in Gelegphu.
Other counsellors said the certificates will validate their duties and responsibilities which will further enhance their work ethics.
"Bhutan Board for Certified Counsellor came up with such system that we are not supposed to practice counselling without obtaining the certificate. In other way it's like a license," said Sonam Tshering, In-charge and Peer Counsellor of Chithuen Phendey Association in Paro.
Officials from Bhutan Board for Certified Counsellor (BBCC) said by certifying counsellors, certain standard and ethical code of conduct for the profession have been set.
"With this certification they become professionals. They will have to abide by certain regulation and ethical standards. Also they require certain level of training and qualification," told Tshering Dolkar, the Director of BBCC to BBS.
Certification guidelines for National Certified Counsellors and website for BBCC were also launched. The website will provide information to the public regarding matters on training of counsellors.