DPT will contest 2018 election, clarifies Party President
Yeshi Gyaltshen, Thimphu

Aug 27, 2017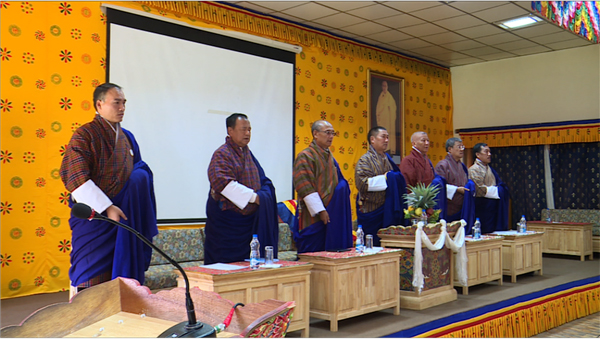 The Druk Phuensum Tshogpa (DPT) will contest the 2018 election, says the Opposition Leader. Dr. Pema Gyamtsho made the statement at the party's General Convention held in Thimphu yesterday. It comes amid rumors about the party's dissolution.
Dr. Pema Gyamtsho clarified that the talks about DPT dissolving are not true. He said the party is instead gearing up for next year's parliamentary election.
"Our party will not be there only in the 2018 election," said the Opposition Leader. "DPT was formed not for a year or two, not even for five or 10 years.  It was formed to serve the country for hundreds of years."
The Opposition Leader added the rumors about the dissolution of DPT surfaced after the Thimphu District Court ordered an investigation into a video clip of a party meeting.
The video footage was presented as evidence at a hearing for its defamation case against Dasho Paljor J. Dorji to prove the allegation of sedition made against the party. Dr. Pema Gyamtsho shared that the video was manipulated and wrongly edited.
At the convention, the DPT party also discussed other concerns and their future plans. The Opposition Leader shared that he had wanted to step down from the presidency, but other members refused to accept the request.
All party members at the convention unanimously reconfirmed Dr. Pema Gymatsho as the Party President with MP Dorji Wangdi and MP Ugyen Wangdi as Vice Presidents.