9th scout leadership training ends
Komal Kharka, Wangdue Phodrang

Aug 6, 2017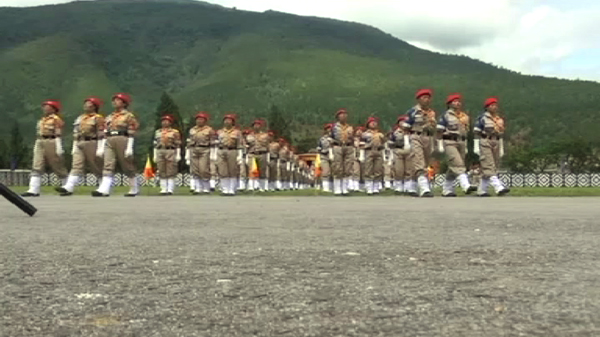 Some 125 scout students selected from schools across the country took part in the 9th leadership training for the scouts. The three-week programme, which was held in Wangdue Phodrang, ended yesterday.
The leadership training, which was re-instituted in 2013 upon the command of His Majesty the King, has proved successful in reviving scouting in the country. It focuses on wholesome development of the scouts.
"We are very thankful to His Majesty the King for this great opportunity," said Phub Tshering, one of participants. "I will definitely share the experiences and knowledge I acquired from here with my friends when I get back to my school."
"The most important thing I learned about is time management," said Kinley Zam, another participant. "After coming here, I learned how to manage my time and I believe this skill will help me achieve all my goals in my life."
The activities at this year's program included rock climbing, river rafting, and weapon training. The students also took part in various other sports and cultural activities.  Also, they had opportunities to attend lectures on various topics during the program.
The training is conducted twice every year. The best five students receive His Majesty the King's Scholarship, which provides the students an opportunity to study overseas.
Bhutan became the member of World Organization of Scout Movement (WOSM) in 1999. The organization says scouting provides young people with opportunities to participate in programmes, events, activities and projects that contribute to their growth as active citizens. Through these initiatives, young people become agents of positive change who inspire others to take action.