Bhutan most peaceful in the region: Global Peace Index
Passang Doji, Thimphu

Jun 21, 2017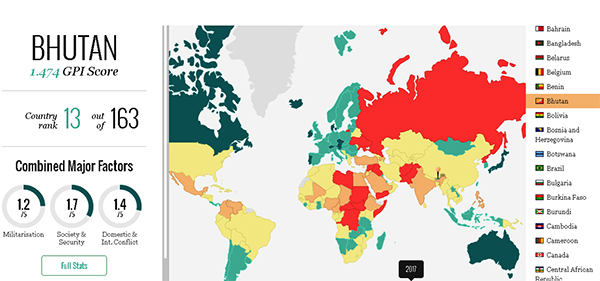 Bhutan, which ranked 13th among 163 countries in the Global Peace Index (GPI) 2017, was named as the most peaceful country among the South Asian nations.
This was revealed as the 11th edition of the GPI was launched in Thimphu yesterday. The GPI is the world's leading measure of global peacefulness. It is prepared by the Australian-based global think tank, the Institute for Economics and Peace (EPI).
The Founder and the Executive Chairman of the Sydney-based EPI, Steve Killelea explained that 23 qualitative and quantitative indicators are considered to rank 163 independent states and territories.
"Those indicators are broken down into three domains," he said. "The first one is the measure of the ongoing conflicts, both international and domestic. The second is internal safety and security. So there are things like violent crimes, homicide rates, number of police and people in jails," he added.
The third domain, Steve Killelea, said is the level of militarization within a society.
The EPI head also recommended Bhutan to focus on factors that helps in creating a peaceful society in order to improve the level of peace in the country. "There are things like focusing on the levels of corruption within society so that the government can function better, and promotes an environment that's conducive to do business," said Steve Killelea.
"There should also be a good level of education and wealth should be equitably distributed," he added.
The EPI also concluded the world has become slightly more peaceful compared to the previous year with 93 countries improving the level of peace.
Iceland, as usual, leads, while Syria remains the least peaceful country in the world.