Bhutan wants to raise its ranking in ease of doing business
Choni Dema, Thimphu

Jun 7, 2017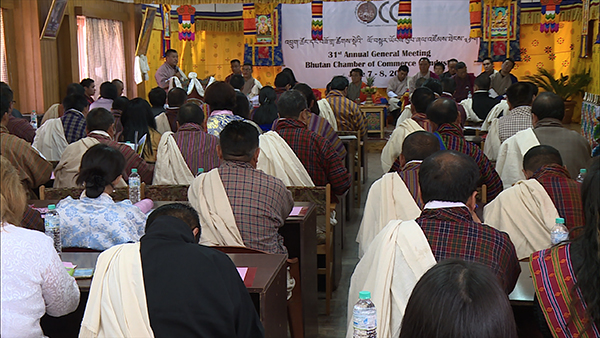 The government commits to take Bhutan to the top 50 in ease of doing business ranking. Currently, the country is ranked at 73 out of 190 nations across the globe.
The Economic Affairs Minister Lekey Dorji remarked this at the ongoing annual general meeting of the Bhutan Chamber for Commerce and Industry (BCCI) in Thimphu.
"To improve the ranking various reforms have been initiated across the agencies. To ensure proper monitoring and accountability, different indicators of doing business have been incorporated in the Annual Performance Agreement of all the ministries," told the minister to the congregation of business representatives.
The ranking is based on how the country has created conducive environment for local firms to start business with foreign collaborations.
At the meeting, Lyonpo Lekey Dorji also highlighted that it is critical for government and the private sector to work together and provide employment to the people.  He added  the government's key objective is to achieve economic self reliance.
He shared numerous plan and policies, and programs that the government has undertaken to improve country's economy.
Economic Affairs Minister also stressed about the financial economic development policy and the fiscal incentives to the business representatives.
The BCCI's two-day meeting also expects  to improve  communication  and  build trust  between  the  public  and  private  sector  in providing inputs  that will help design economic policies.
The forum will cover wide range of issues including BCCI work plan and other issues received from dzongkhags such as micro financing to small and medium enterprises, and training opportunities for business communities.