Queen Mother interacts with students of Phuentshogling
Sonam Penjor, Phuentshogling

Mar 27, 2017
Her Majesty the Queen Mother Sangay Choden Wangchuck met with over a thousand students in Phuentshogling, today.
During the meeting, Her Majesty highlighted the issues of suicide in the country.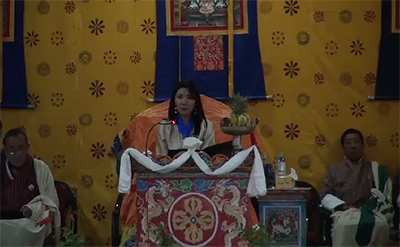 Her Majesty also motivated over three hundred teachers to seriously infuse the life skills education in the schools.
Yesterday, the Multi-Sectoral Task Force (MSTF) and Community Based Support System (CBSS) members of Chhukha Dzongkhag presented the activities, challenges and way forward programme to Her Majesty.
MSTF and CBSS are formed under the patronage of Her Majesty in 2001 and 2005 respectively to combat HIV/AIDS, Sexually Transmitted Infections, domestic and gender based violence.
Her Majesty is on a high level advocacy tour to Chhukha Dzongkhag.