Children's Parliament passes 17 resolutions
Kipchu & Pema Tshewang, Thimphu

Jan 7, 2017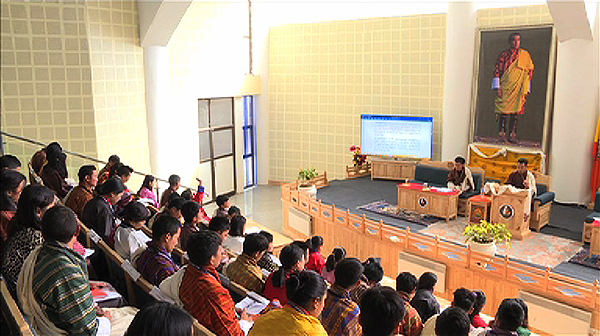 The second session of Bhutan Children's Parliament passed 17 resolutions after a three-day deliberation. The resolutions range from youth-related issues to reforms in the national education system, among others.
One of the most debated topics was the proposed increment of boarding student's monthly stipend.
Although, the lower house endorsed the increment, the upper house was of the view that strict supervision of the management of the resources would meet the nutritional requirements of the students even without the hike.
The joint sitting considered both the recommendations after the members of both the houses supported it.
Currently, boarding students in all schools across the country are paid Nu 1,000 as monthly stipend while college students receive Nu 1,500.
"Some schools are located in remote areas of the country and the monthly stipend is not enough as transportation cost of delivering the groceries is very high. We would like to recommend the school authorities to regularly scrutinize the management of the schools' mess's resources," said Bhutan Children's Parliament's National Council Chairperson, Dorji Tenzin.
The joint sitting also deliberated on the improvement of facilities in non-central schools and addressing child labor.
"Lately, the government has focused more on developing and establishing Central Schools in the country. There are plans of establishing 60 more such schools. With such initiatives, Non-Central Schools are lagging behind in terms of basic facilities such as internet connectivity and other infrastructures," said Dewathang-Gomdar Constituency Representative, Khenrab Yoesel.
Chhukha's NC Member, Passang Wangmo said they see children who haven't been to school falling victims to child labor.
"We would like to recommend the Local Government to identify these individuals and then seek help from relevant stakeholders."
The resolutions will now be submitted to His Majesty The King and other relevant agencies.
The session, which concluded yesterday, also marks the end of the tenure for the members of the first Bhutan Children's Parliament.