Collapsing water reservoir tank worries locals
Karma Wangdi, Gelegphu

Dec 15, 2016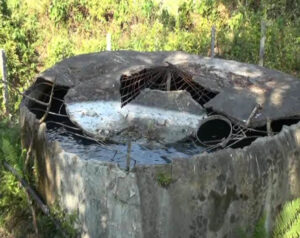 People of Pelrithang-Khamed in Gelegphu fear their water reservoir tank, which has developed cracks, could collapse anytime. They say the tank was constructed using inferior materials.
During a meeting yesterday, the locals appealed to their newly-elected Gup, Ugyen Wangchuk for immediate repair.
The tank was constructed in 2011.
"The tank is in a poor condition. It had collapsed, last year. We will suffer if it is left the way it is," said one of the locals, Sonam Pelden.
A plumber from Pelrithang, Bala Ram Katel said he reported to the gewog office about the repair and was told that fund had arrived too. "But, they refused to carry out the maintenance."
The gup said the gewog does not have the fund to carry out the maintenance.
However, he said they will provide plastic tarpaulin to cover the water tank. He said it would prevent the water from being polluted.
"I visited the water reservoir site. I found out the quality of iron rod is not up to mark. The tank could pose a risk to humans and animals. As temporary measure, it should be covered with a tarpaulin," said Ugyen Wangchuk.
The reservoir caters to 125 households.