Display of Tashi Gomang postponed
Sonam Choden, Thimphu

Oct 21, 2016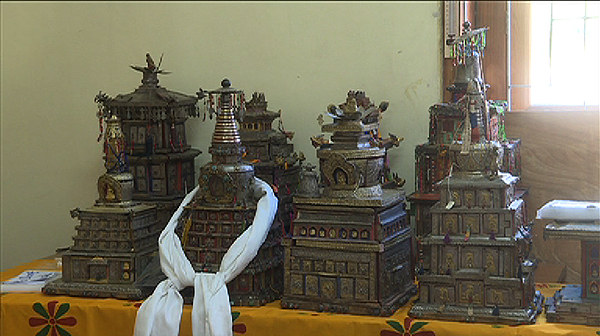 Twenty six Tashi Gomang to be displayed to the public this month in Thimphu has been postponed to next month as the restoration works continue.
Tashi Gomang is a portable altar often termed as traveller's shrine.
Her Majesty the Royal Grandmother, Ashi Kesang Choeden Wangchuck is the patron of the project.
Most of these Tashi Gomang dates back to Zhabdrung's time collected from temples across the country.
Officials say it takes at least a month to restore one Tashi Gomang.
They are also waiting for an auspicious day to open the exhibition at the Royal Textile Academy.
"Conservation and restoration of Tashi Gomang is different from other restoration works. It's risky to handle and we have to be extra careful. If we are not mindful while handling, there are chances of damaging. So we are taking extra time," said Department of Culture's Phendey L. Wangchuk.
He said as of now 10 Tashi Gomang are ready for the exhibition.
The exhibition will open for three months beginning November 5 to commemorate the 400 years of Zhabdrung's arrival to Bhutan.
"It has been difficult to get some materials for the restoration of Tashi Gomang.  For example, we need red sandalwood for small doors and we also need silver. These are all granted by Her Majesty the Royal Grandmother. We are trying to maintain its originality," said Phendey L. Wangchuk.
It is believed that viewing Tashi Gomang is as good as visiting a Lhakhang.
There are 34 Tashi Gomang in the country.