Completion date of Wangdue Dzong's reconstruction pushed further
Kinzang Thinley, Wangdue Phodrang

Jan 14, 2016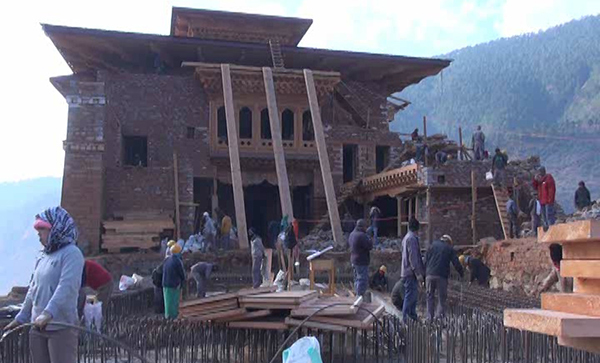 Reconstruction of Wangdue Phodrang Dzong is expected to be complete only by 2021. Project officials said the change in the structural design is causing the delay. The earlier completion date was slated as December 2018.
The Project Manager, Kinley Wangchuk said they received a directive from the government to make the change in the structural design after the earthquake in Nepal. Nepal lost many of its historical monuments, which shared similar designs to that of Bhutan's, to the quake, last year.
Kinley Wangchuk said they have been directed to include seismic design and use modern technology to reconstruct the dzong. The earlier plan was to use only stone, timber, and mud.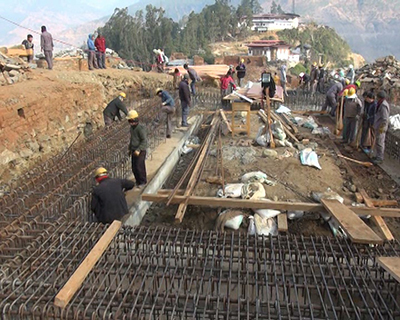 "Since we are located in an earthquake zone, Utsey, which is four storied would be risky. So we found a solution like base isolation. Base isolation is a technology where superstructure is separated from the base. So when earthquake strikes, it won't have much impact on the superstructure," said Assistant Project Engineer, Dorji.
But, the aesthetic of the dzong will be traditional.
Reconstruction of the dzong began in January 2014. About 23 percent of the project has been completed.
Asked if there will be cost escalation because of the change, the Project Manager said they are reviewing.
About Nu 186 M had been spent until December, last year.
"From Nu 1 B committed by the Indian government, we received 130 M. But, it was not enough. So our government is pre-financing the project," said Kinley Wangchuk.
He said they received about Nu 56 M from the government and rest are the amount collected through donations.
Some Nu 76 M, from the contributions, was spent in purchasing sacred relics.
Over 300 workers are reconstructing the 17th century fortress which was destroyed by fire in June 2012.
The Wangdue Phodrang Dzong was built over 300 years ago by Zhabdrung Ngawang Namgyal.