PM to send five ministers to two remote gewogs
Kuenga Tashi, Phuentshogling

Dec 24, 2015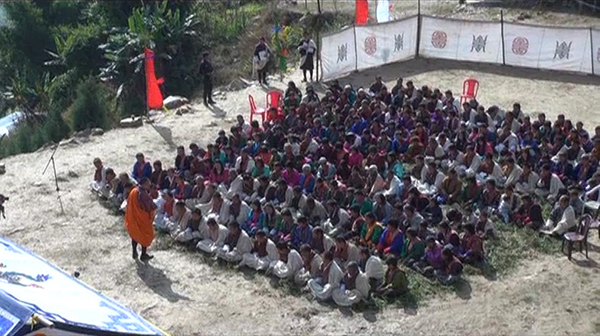 The Prime Minister, Tshering Tobgay is sending five ministers to Maedtabkha and Doongna Gewogs under Chhukha in the next six months. Lyonchhen said the move is to see the progress and plan development activities.
The locals of these gewogs had told the Prime Minister they hardly get any government officials. Doongna and Maedtabkha are the furthest and most remote gewogs in the country.
"With no one to come see you, how will your gewogs develop," Lyonchhen told the gathering.
The Prime Minister said he will send the home minister, Dawa Gyeltshen to assess the difficulties the villagers are going. Education minister, Mingbo Dukpa will be sent to monitor to education facilities. Likewise, the health minister, Tandin Wangchuk will visit the gewogs to oversee health facilities.
"The most important minister for is the agriculture minister, Yeshi Dorji," said Lyonchhen. He said he will also send works and human settlement minister, Dorji Choden since she looks after roads.
Meanwhile, the Prime Minister also agreed to send an additional power tiller to Maedtabkha Gewog immediately. He added the training for power tiller operators would be held soon and asked the dzongkhag and gewog to nominate a candidate each from both the gewogs.
The Prime Minister also asked the Minister of Home and Cultural Affairs, who is accompanying Lyonchhen, to personally go through the five business proposals for BOiC from the two gewogs.