His Majesty in Bongo
Oct 20, 2015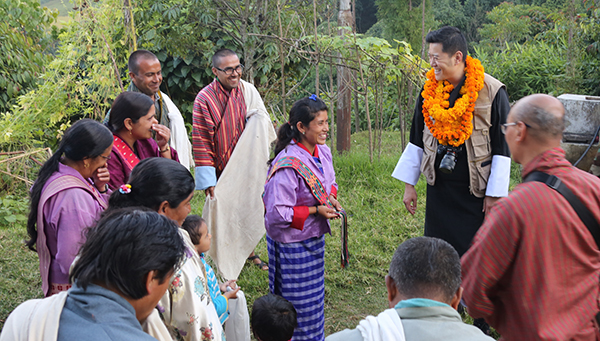 His Majesty the King visited Bongo, yesterday. His Majesty granted an audience to hundreds of people gathered at the ground in Bongo.
People gathered at the ground offered Tshogchang to welcome His Majesty the King. His Majesty spent the afternoon interacting with the people.
His Majesty also discussed every aspect of their lives and their developments and asked them their thoughts on development and opportunities in Bongo. Towards the afternoon, His Majesty granted a tokha to the people.
Bongo residents expressed happiness over His Majesty's visit and his audience to the people. Later, His Majesty visited Bongo lhakhang and offered prayers. His Majesty also spent time with the people, visited homes and met with people from different walks of life.
His Majesty also met with the people of Meritsenmo village where he spent the night on Sunday, and later granted an audience to the students and teachers of Pakshikha Central School.