PM reviews midterm performances
Feb 27, 2015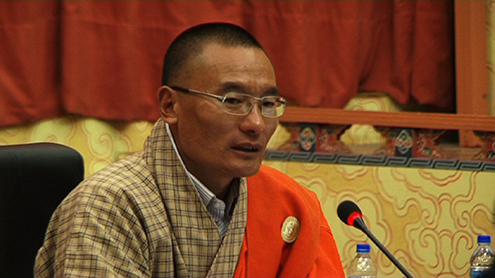 The Prime Minister, Tshering Tobgay said the performance of Gross National Happiness Commission and five ministries; education, information and communication, economic affairs, health and labour is impressive.
Lyonchhen had reviewed their midterm performance, yesterday. He also said there were challenges that hindered the ministries and GNH commission to achieve all the objectives listed in their performance agreement.
Most of the targets mentioned in the performance agreement of the labour ministry are well on track, according to a presentation by the labour ministry's secretary, Pema Wangda.
The targets include reducing unemployment and providing full employment. From June to December, 2014, over 3,200 job-seekers were employed through direct employment and overseas employment schemes.
"The ministry's challenge is the little authority it has in terms of creating employment opportunities while implementing the targets," presented the secretary.
The education ministry's achieved targets include improved access, sustainability and quality of education, improved adult literacy and strengthened youth development activities.
Hurdles chalked out by the ministry were instituting guidance and counseling programmes in schools. The main challenge in fulfilling the target, according to the education secretary, Sangay Zam was the ministry's dependency on RCSC to recruit school guidance counselors.
The Ministry of Information and Communications has been successful in reducing road fatalities over the past few months. Expansion of the Paro International Airport is ongoing. Information and Communications Secretary, Dasho Kinley Dorji presented that access to media has improved. He said the ministry was also able to keep alive the culture and tradition through ICT and Media and promote creative media.
The challenges pointed out were unreliable fibre optic for sustainable and efficient ICT services.
The economic affairs ministry mid-year performance report showed that the ministry was able to enhance economic expansion and diversify and accelerate hydropower development trade.
But, the ministry did face challenges in terms of land acquisition to set up GLOF early warning system.
The health ministry was able to provide three doctors each in 12 dzongkhags. By the end of the one year agreement period, they aim to provide three doctors each in 20 dzongkhags. "The setback is to construct health infrastructure due to lack of civil engineers," said the health secretary, Dorji Wangchuk.
GNH Commission's mid-year performance report too revealed if not all, most of objectives have been accomplished or on progress. The commission encountered challenges like shortage of manpower.
After the presentations, the Prime Minister lauded the ministries and commission for their commendable work. Lyonchhen also asked them to plan targets for the financial year 2015-16.