Indian community in Bhutan observes 66th Republic Day
Jan 26, 2015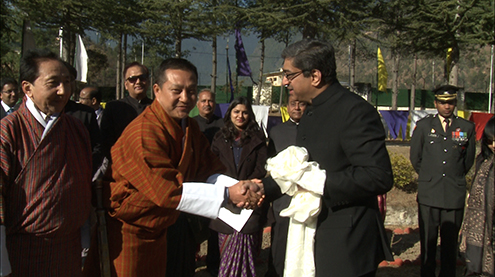 Indian Community in Bhutan gathered at the Indian Embassy to celebrate their 66th republic day.
The celebration began with the hoisting of the Indian flag. The Indian ambassador to Bhutan, Gautam Bambawale read out the President of India's address to the gathering. In his address, the President highlighted that economic progress was a test of democracy.
Ambassador of India to Bhutan Gautam Bambawale, read out the address. "The Year 2015 was a year of hope. Strengthening of the external sector, move towards fiscal consolidation, moderation in price levels, and early signs of rebound in manufacturing and record agricultural production last year augur well for the Indian economy. Achieving five percent plus growth rates each in the first two quarters of 2014-2015 was a healthy sign for an early reversion to the high growth trajectory of 7-8 percent."
Following the speech, Gyalpoi Zimpon Womgma, Tashi Penjore, offered Tashi Khaddar to the Indian ambassador on behalf of the Bhutanese government and the people. Also present were other senior government officials.
The Constitution of India came into effect in 1950 on this day and India became an Independent republic. Since then, January 26th has been celebrated as the Republic Day of India.
Later in the afternoon, as part of the celebration a light classical music program by Ghulam Abbas Khan and group was performed.
Their Majesties the Queen mothers, Dorji Wangmo Wangchuck and Sangay Choden Wangchuck attended the celebration. Their Royal Highness, Princess Dechen Yangzom Wangchuck and Sonam Dechan Wangchuck also attended the celebration. Also present were the Prime Minister, Tshering Tobgay, Opposition Leader, Pema Gyamtsho, cabinet ministers and other government officials.
It was organized at the Nehru-Wangchuck Cultural Centre.