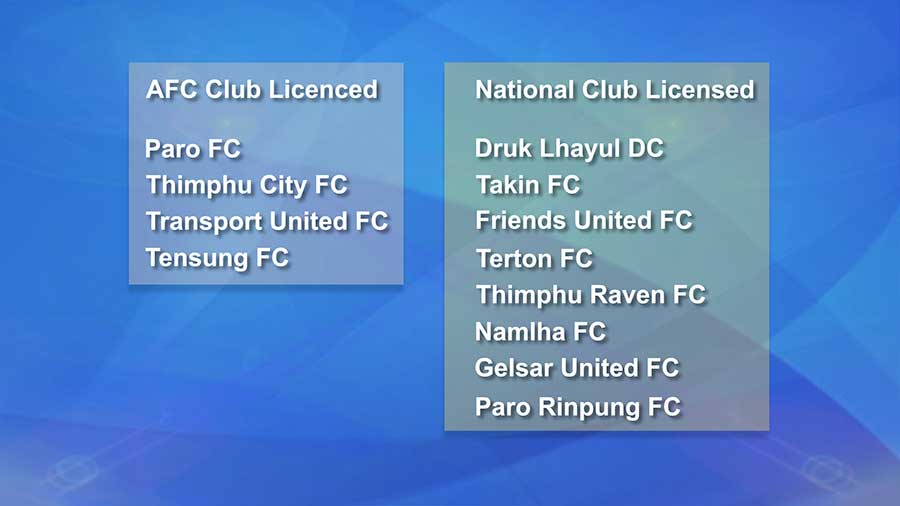 Football teams in Bhutan need to be licensed if they are to participate in national leagues or competitions outside the country. To professionalise the administration and management of football clubs in Bhutan, the Bhutan Football Federation initiated club licensing regulations in 2016.
Club licensing is a set of rules that need to be followed and fulfilled by football clubs after which, they can participate in top-tier competitions.
Introduced barely a decade ago, club licensing is still in its emerging stage in the country. Before the introduction of the club licensing system, there was no proper management of football clubs.
The Bhutan Football Federation (BFF) said club licensing improved the overall football system in the country.
"When the clubs came to participate in the top national competitions, they did not have certified coaches, they did not have physiotherapists during the match day, they did not have a club staff to manage their teams and also, they did not find teams with a properly written contract," said Tashi Dorji Wangmo, the BFF's assistant club licensing Manager.
According to the assistant manager, such issues were streamlined after the introduction of club licensing.
Tashi Dorji Wangmo added that such licensing requirement brings a basic organisational structure within the clubs.
She added, "the success of football clubs not only depends on the on-pitch performance, but it also depends on the off-pitch performance that club licensing looks after."
Clubs wanting to avail license will have to send in documentation six months before the assessment, which takes around two weeks.
Club licensing started with men's clubs in 2016. So far, five men's teams have been licensed for the Asian Football Confederation competitions and eight teams for the National League.
Club licensing for women's clubs started last year. So far, only Thimphu Women's FC and Mandala FC have been licensed for the AFC competitions. As for the National League license for women's teams, it is still being assessed.
Tashi Yangden
Edited by Sherub Dorji