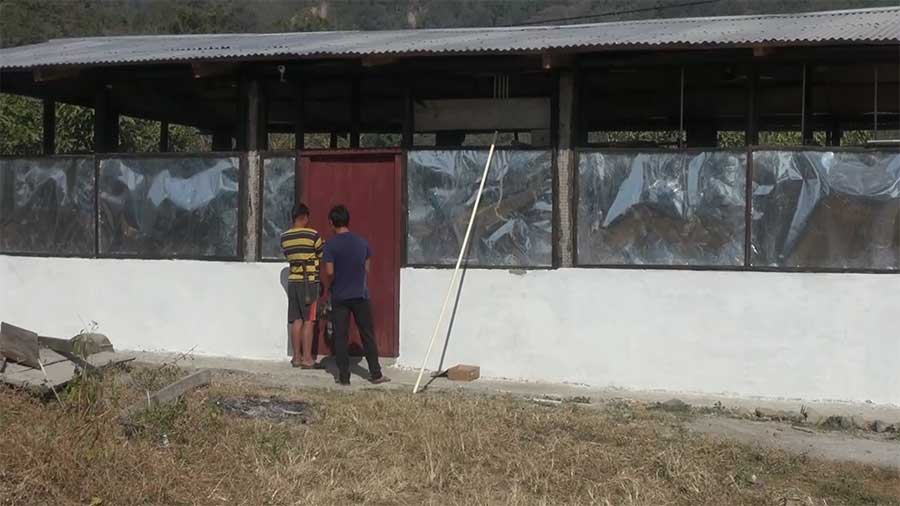 In Pema Gatshel, the district's first bio-degradable plate and cup manufacturing group has yet to start production. The group initially planned to start manufacturing by August last year. However, the construction of the structure got delayed by four months. Moreover, Farm Machinery Corporation couldn't supply the machine on time which led to the delay in production. The group took up the environment-friendly project which attempts to address the growing plastic waste issue.
The group, Menchu Phendey Tshogpa, comprising eight members constructed a semi-permanent structure as its manufacturing plant. They plan to make biodegradable plates and cups using dried areca leaves.
The structure was completed two months ago.
But the women's group couldn't start production as they didn't get the machine on time.
"We hoped to start production soon and produce more products if the machine arrives on time. That way, we can make more income too. But we couldn't get the machine," said Karma Tenzin, the group's Secretary.
According to the FMCL officials in Pema Gatshel, they have received the machine but found some faults during a test run. So, they have asked the group to procure the machine on their own or wait until the officials fix the error in the machine the FMCL bought.
Consequently, the group placed an order to purchase a new machine from India last month.
"The members are worried as the machine has yet to arrive although the structure is already complete. They are unable to start production. But now, they are quite comfortable as we went to India personally and placed an order there. We are hoping we will get the machine by next month," added Karma Tenzin.
"We have drawn an agreement to deliver the machine within 45 days. If the machine reaches within the agreed duration, we can meet the project deadline," said the group's chairperson Sonam Yeshi.
The plant will have the capacity to produce more than 20,000 bio degradable plates and cups in a week. The group started the project with fund support of over 30,000 US dollars from the UNDP's Small Grant Programme and the government.
The United Nations has warned that the world will face a huge plastic pollution problem if the governments don't act quickly. According to a UN report, the amount of plastic waste entering aquatic ecosystems could nearly triple to as much as 37 million tons per year by 2040.
It is reported that single-use plastics are also accelerating climate change, as most are derived from fossil fuels and produce emissions at every stage of their lifecycle.
Thinley Dorji, Pema Gatshel 
Edited by Phub Gyem