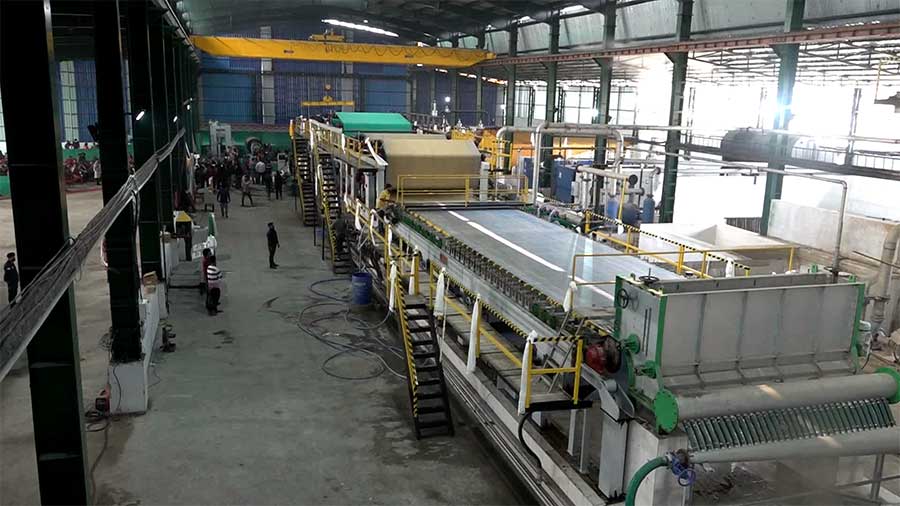 Sarpang now has the country's first-ever kraft paper factory. The private facility is also the first manufacturing unit to be unveiled at the Jigmeling Industrial Estate. The plant will recycle all kinds of papers and process them into kraft papers. Kraft papers can be used for packaging goods, which would help reduce plastic bag usage in the market.  
The factory named the Eco-Tech Bhutan Kraft Paper Industry plans to supply kraft bundles to factories in Phuentshogling, Samtse and neighbouring Indian towns where they will be corrugated to be used for packaging goods.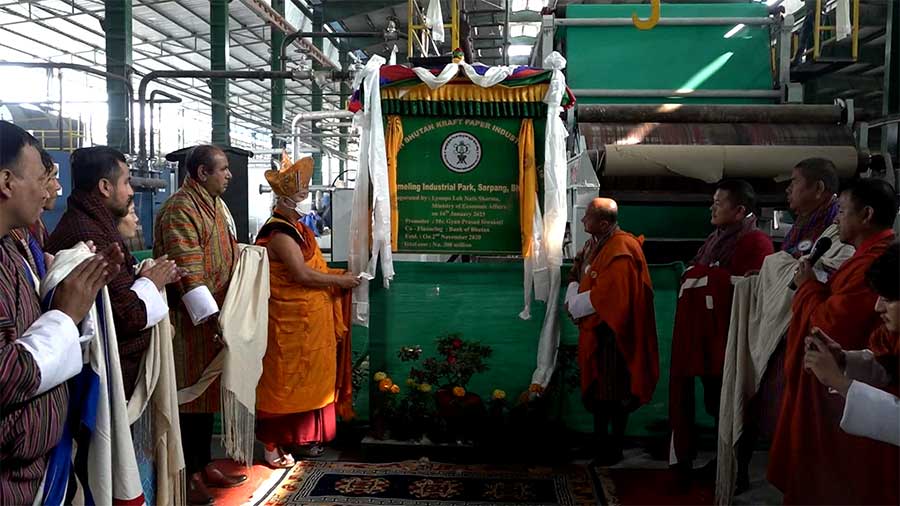 The facility inaugurated by the Energy and Natural Resources Minister Loknath Sharma on Monday aims at reducing paper waste in the country. It expects to recruit around 120 unemployed Bhutanese as well.
Thom Bdr Bista, the General Manager of Eco-Tech Bhutan Kraft Paper Industry said the plant could potentially help substitute plastic bag usage in the country.
"The paper manufactured from waste papers of cartons and white paper would be of benefit to our country. Till now our government has been trying to ban the usage of plastic bags but there are no alternatives to substitute them.  Now that we are going to make paper bags available in the market, we would be able to reduce the usage of plastic bags substantially."
The production capacity of the factory is 50 metric tons per day. Currently, the factory targets producing around 20 metric tons or three truckloads of paper. More raw materials will be imported from India if the local supply runs out.
An employee at the plant said they could face raw material shortage in the future. For instance, workers have been able to gather only around 700 metric tons of raw materials in the last three months of the minimum 1,000 metric ton requirement when starting production. The factory buys cartons and waste papers from vendors at Nu 10-12 per kilogram.
"Right now we want to collect all the waste papers from across the country and recycle them. Once our market grows in the future, we are planning to produce more. We have provision to produce up to 100 metric tons in the future," Thom Bdr Bista added.
Around Nu 300 M was spent to build the plant.
It has plans to produce tissue paper, plastic bags and other paper products. Meanwhile, some other factories in the industrial park are also gearing up to complete their construction.
The Jigmeling Industrial Estate is spread across an area of around 760 acres which is taken on lease for 20 years.
Karma Wangdi, Sarpang
Edited by Kipchu