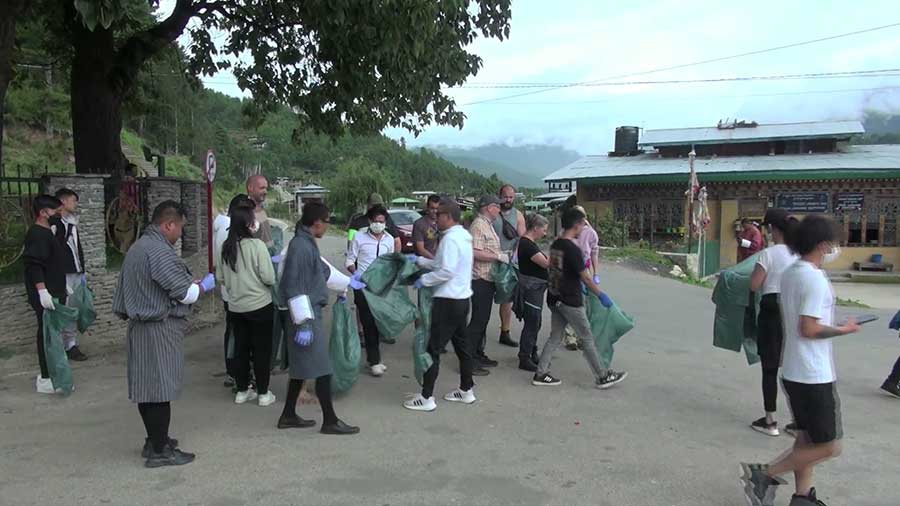 Waste is a global problem and it needs global participation to address it. Despite being dubbed a carbon-negative country, Bhutan has its share of the waste problem. Various cleaning campaigns are conducted regularly across the country every year. However, the issue keeps surfacing. In a bid to motivate Bhutanese in keeping the country clean, a group of foreigners out of sheer love for Bhutan and nature joined a youth group to clean up Chamkhar town in Bumthang, on Wednesday.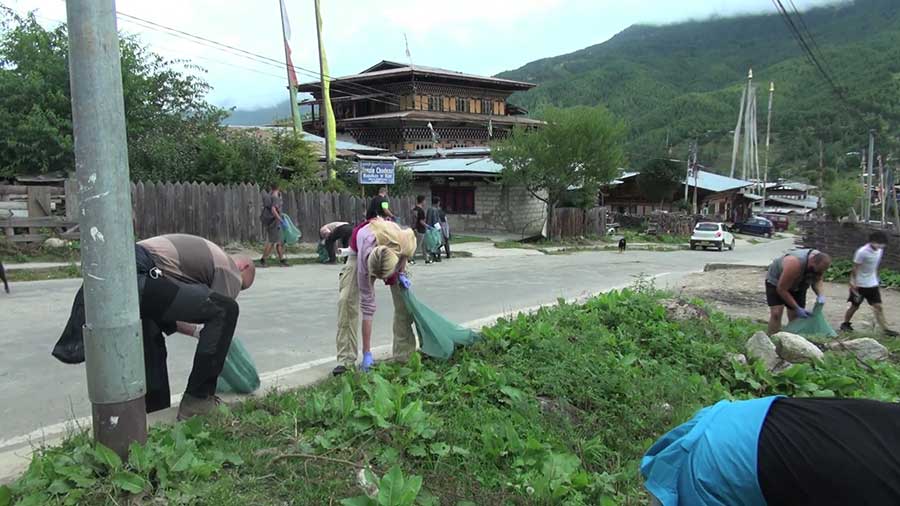 The foreigners, seven of them who are in Bumthang for a few days picked litter along the Jakar Lhakhang to Chamkhar road. They are from Europe and the UK. A few of them work in Bhutan.      
"First of all, it is to motivate the younger generation to be aware of how beautiful your country is and that you must keep it clean. I believe every citizen of every country should be aware of the fact that we have to keep our own country clean," said Esteban Witzemann from Germany.
"Let's stop with all these and have this beauty that you have in Bhutan thrive and show the world. You're a carbon-negative country and this is already showing the world how to do it and let's pick it up with the trash as well," Thomas Buhlmann, a trainer with DeSuung Skilling Programme from Switzerland.
"Bhutan is such a beautiful country and to preserve the nature of this country is just so important. It's absolutely nothing like India but we all have to bring awareness. Yeah, there is trash here and of course, there is trash everywhere in the world. I think every country needs to take responsibility," added Zari Ferns from the United Kingdom.
12 other Bhutanese youth who call themselves the "Bhutanese TikTokers" helped in cleaning the street. They have conducted similar programmes in Thimphu, Punakha, Wangdue Phodrang and Paro. They say some people don't cooperate when they advocate waste management.
"When we ask people, they say it's not their job to clean and that it's the municipal office's job. People even say that they pay tax for cleaning services and that the municipal office should do everything. I think it's not right to say that it's the municipality's job alone. It's every citizen's job," said Karma Kuenzang Dorji, founder of Bhutanese TikTokers.
A group of local volunteers also joined them. In the end, it was a collective effort. Though the event was brief and small-scale, the message was loud and clear. It was about bringing people together for a shared global mission.
Kipchu, Bumthang