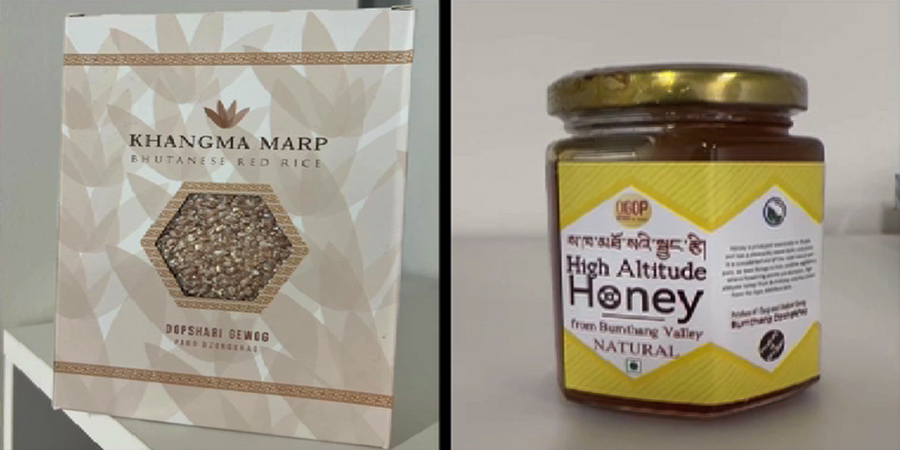 The Bhutanese red rice and honey have been attracting many people at the ongoing World Expo in Dubai. The two products are among more than a 100 other items being displayed by the Bhutan pavilion at the Expo. Bhutan is among almost 200 countries taking part in the Expo which started from first October and will continue till the end of March next year. 
The Bhutanese products on display include cultural artefacts, traditional garments, organic products and contemporary art and craft.
Among them, the red rice and the high-altitude honey are the best-selling products according to officials at the Bhutanese pavilion.
The honey, which is harvested from Bumthang, is being sold at about Nu 400 for 240 grams. And a kilogram of red rice from Paro costs about Nu 190.
According to the Pavilion Director, there are around 125 CSI products on display at the Bhutanese pavilion.
"The moment the visitors enter our pavilion, they are very happy to see the banner of the GNH and say it's the happiest country in the world," said Pem Zam, the Pavilion Director.
"Basically, here we have been promoting tourism, the best product from the agro-based product would be rice and high-altitude honey."
She added people are also eager to visit Bhutan once the situation improves.
"On the services, it is the tourism. And also, there are few business entrepreneurs who enter our pavilion and discuss about FDI on how they want to go to Bhutan and how is it possible to invest in Bhutan," she said.
She said the Bhutanese pavilion is seeing thousands of visitors every day. Meanwhile, the 114th National Day was also celebrated at the Expo on Friday.
The World Expo is an international exhibition held every five years providing a platform to showcase the greatest innovations that have shaped the world so far.
The six-month-long multibillion-dollar global fair was supposed to be held from October last year. However, it got postponed due to the pandemic.
Tshering Zam
Edited by Yeshi Gyaltshen